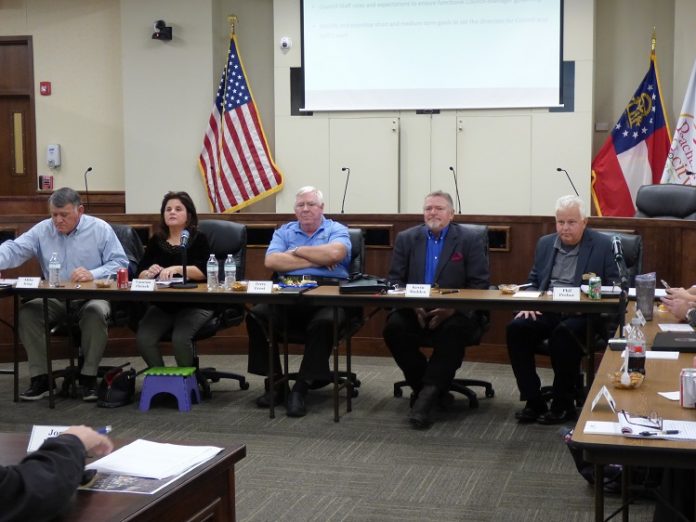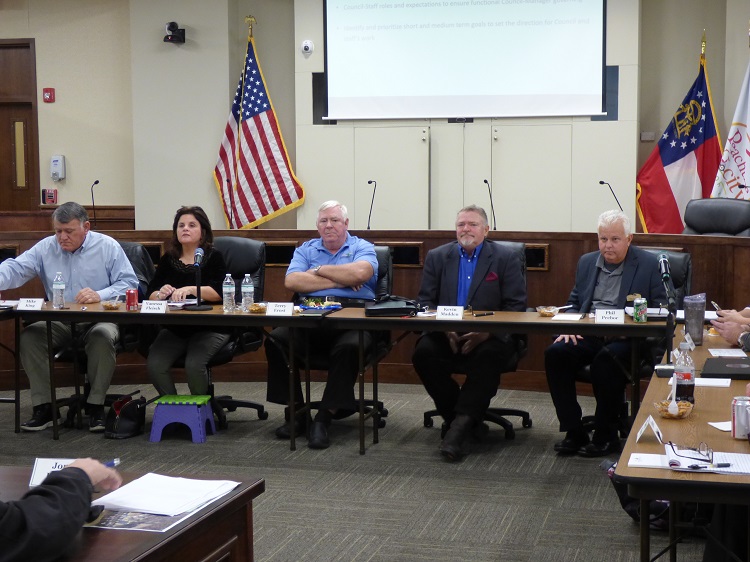 Council may decide on list of priorities beginning Dec. 12 — 
A lengthy Dec. 3 meeting of the Peachtree City Council to identify and prioritize short- and medium-term goals for the city's future generated a long list of items to be presented to the council on Dec. 12 for their consideration.
In all, there were 47 items suggested, with City Manager Jon Rorie saying at the conclusion of the 4-hour meeting that he would confer with city staff to arrange the pertinent items in a spread sheet format so that the goals can be prioritized by council members on Dec. 12, along with the assignment of council members and staff with responsibility for the actions required to accomplish those goals.
The meeting was intended to be informal, with council members and city department heads sitting in a round-table arrangement, and with all offering suggestions on potential goals. Even the five residents in attendance offered their suggestions on potential goals for consideration.
As much as anything, the meeting served as an open-ended brainstorming session.
Rorie during the meeting noted that a number of the suggested goals were already included in actions being undertaken by the city.
Some examples of potential goals for consideration on Dec. 12 included:
• The use of license plate reader cameras by the police department on Ga. highways 54 and 74. Rorie noted that system would alert officers if the vehicle was involved in a crime or some form of violation, but would not be used to issue tickets. "We can't use cameras to weaponize the police department," Rorie added.
• The elimination of the recycling yard on Hwy. 74 South at Rockaway Road.
• The future of the bubble on the Kedron pool, an air-supported structure with a $750,000 price tag.
• A plan for the 58 acres on McIntosh Trail owned by the city, including the relocation of the city's Public Works Department.
• The future of the Peachtree City Tennis Complex on Planterra Way.
• Potential work at the intersection of Huddleston Road and Hwy. 54, including grading, sewer and having two left-turn lanes onto Hwy. 54 West.
• Cart path connectivity on Hwy. 54 East from the cemetery path to the Peachtree East Shopping Center.
• Planning for the replacement of the golf cart bridge on Hwy. 54, and with the consideration that the pylons will have to be replaced in 15 years.
• Moving local elections to even-numbered years to increase voter turnout.
• The future dredging of Lake Peachtree.
The meeting can be viewed in its entirety at www.peachtree-city.org