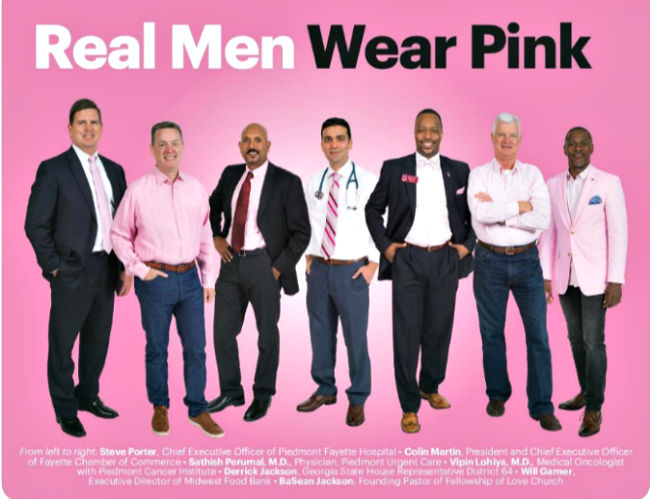 As part of its commitment to the fight against breast cancer, Piedmont Fayette Hospital is enlisting the help of seven men in the community to help spread awareness about breast cancer, the second leading cause of cancer-related death in the U.S.
The Real Men Wear Pink campaign is designed to increase the number of women who take preventative action in the fight against the disease. The men will take part in community events throughout the month of October in Fayette County, including health fairs, Pink Out football games, and more, all while leading by example by asking the women in their lives to get screened for breast cancer.
"I am proud to be one of the seven men who are part of Piedmont Fayette's 2019 Real Men Wear Pink Campaign, promoting the importance of early detection to prevent breast cancer," said Piedmont Fayette CEO Steve Porter. "The campaign also allows us to share what a valuable resource Piedmont Fayette is for a family facing a cancer diagnosis. Our comprehensive cancer care, from imaging and treatment, to navigation, counseling, and wellness, provides a valuable support system for our friends and neighbors when they need it the most."
Joining Porter as part of the 2019 Real Men Wear Pink Campaign are:
Colin Martin, President and Chief Executive Officer of Fayette Chamber of Commerce
Sathish Perumal, M.D., Physician, Piedmont Urgent Care
Vipin Lohiya, M.D., Medical Oncologist with Piedmont Cancer Institute
Derrick Jackson, Georgia State House Representative, District 64
Will Garner, Executive Director of Midwest Food Bank,
BaSean Jackson, Founding Pastor of Fellowship of Love Church
"My wife Jenny was diagnosed with breast cancer in June of 2018. Today she is cancer-free, thanks in large part to timely mammograms, and the professionals at Piedmont Fayette," said Garner. "Participating in the 'Real Men Wear Pink' program is a way to acknowledge her courage and strength in battling cancer. It is also a way to encourage others who may be battling cancer, and it is my way to say thanks to the professionals at Piedmont Fayette for all the first-class treatment Jenny and I both received during the past 18 months, from diagnosis to ringing the bell at the end of treatment."
For more information on scheduling a mammogram, call 770.719.6600. To learn more about the many cancer services provided at Piedmont Henry, visit piedmont.org/cancer.