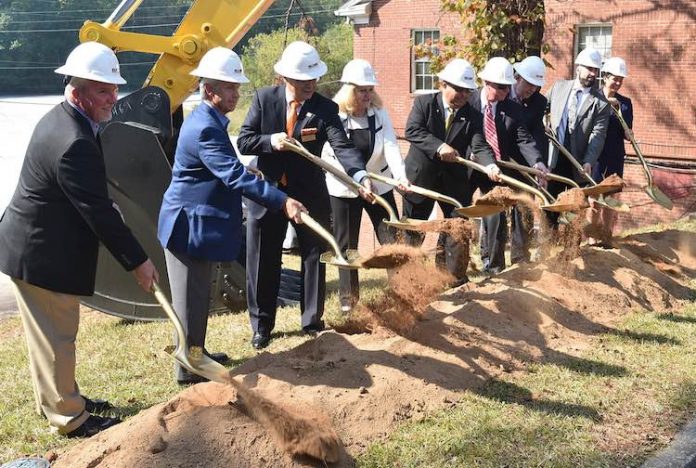 A large group of elected officials and appointed officials from across Fayette County joined Fayetteville officials, builders and those from the community on Oct. 1 for the groundbreaking of the new City Hall and City Center Park located on Stonewall Avenue, one block from downtown.
"I'm excited to finally be standing on the site where the new City Hall and park space will be located," said Mayor Ed Johnson.
Johnson noted the City Council's vision four years ago to construct a new City Hall.
Since that time Fayetteville has seen significant, ongoing development and received input from hundreds of citizens in numerous town hall meetings on the desired look for downtown through the Comprehensive Plan process.
"We can't stop growth, but it's important to manage growth," said Johnson, citing the goal of having Fayetteville become a destination and a premier city.
Other speakers included council members Scott Stacy and Rich Hoffman and project design and construction staff.
Renderings of the exterior of the new City Hall and City Center Park projects situated on 10 acres were revealed in August.
The rendering provided by the city shows a 34,000 sq. ft., 2-story building of brick and other materials, with tower-like structures and large windows on the east and west sides and in the center.
The City Center Park will come with a wealth of features designed to attract large numbers to the area and, when complete, will be the largest outdoor meeting space in the downtown area.
A sampling of the park features includes numerous walkways and pedestrian pathways, a splash pad and playground, picnic pavilion, restrooms and changing rooms, a concrete stream, a grass mall with a performance area to accommodate 1,500-2,000 people, a walk-around pond and dog park, interconnected streets and a wealth of trees, shrubs and flowers.
Retained in the process are the old Fayette County gym and the school system's bus barn. Both will be redesigned and portions of both will be leased to as yet unnamed tenants.
The projects are expected to come with a $23 million price tag, of which $19 million will cover construction costs. The projects include a $1 million contingency. The projects will be financed through the city's Public Facilities Authority.
Commenting on the city's continued growth and the old City Hall building located along Ga. Highway 85 South, City Manager Ray Gibson said, "One key element we all agreed needed to be addressed was our current City Hall, which was originally a school house many decades ago. It has served the community well over the quarter of a century it has been used as a City Hall building, but we decided to look at the feasibility of constructing a purpose-built facility to better accommodate city staff, offer more engaging space for the public to enjoy and establish a new City Center to give our downtown more of a sense of place."
Next up will be the demolition of the old school board building which current sits on the site. The demolition is expected later this year.
The City Hall and City Center Park projects are expected to be completed in late 2020 or early 2021.