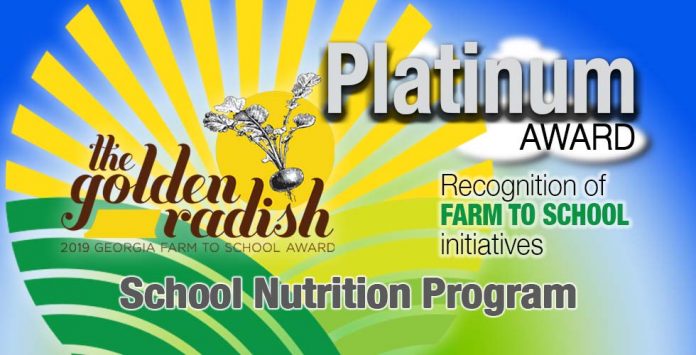 Fayette County Public Schools has reached a new pinnacle in Georgia Farm to School usage and ideology by earning its first-ever platinum level Golden Radish Award.
Fayette is one of 22 school system's throughout Georgia to be recognized at the platinum level, and is among 90 state school systems that received a Golden Radish Award in recognition of efforts to offer locally grown produce in their cafeterias, and to promote awareness among students and staff on the benefits of eating a diet filled with fresh fruits and vegetables.
School Systems are recognized at five levels: platinum, gold, silver and bronze. Radishes are awarded to recognize school systems with varying levels of Farm to School programs. School systems that satisfy the gold level for all 10 award criteria are presented a platinum radish.
The Fayette County Public School System School Nutrition Program led the way in initiating efforts during the 2018-2019 school year that earned the school system its first platinum radish.
These efforts included monthly farm to school campaigns spotlighting locally grown items with information about the item and where it was grown; aquaponic systems in classrooms throughout the school system where students grew fresh herbs and vegetables that were often featured on menus in their school's cafeteria; and art lessons that incorporated farm to school curricula.
While this is the school system's first time receiving a platinum radish, it has earned the award at varying levels since 2015 when it received bronze, and then bumped up to silver in 2016. The school system received consecutive gold awards in 2017 and 2018.
Kokeeta Wilder, director of the Fayette County Public Schools nutrition program, will accept the award on behalf of the school system at the annual Golden Radish Farm to School Awards presentation at Mercedes Benz Stadium on September 17.
The award is sponsored by the Georgia Department of Education, Georgia Department of Agriculture, Georgia Department of Public Health, the UGA Cooperative Extension, Bright from the Start Georgia Department of Early Care and Learning, and Georgia Organics. — By Melinda Berry-Dreisbach, Fayette County School System.