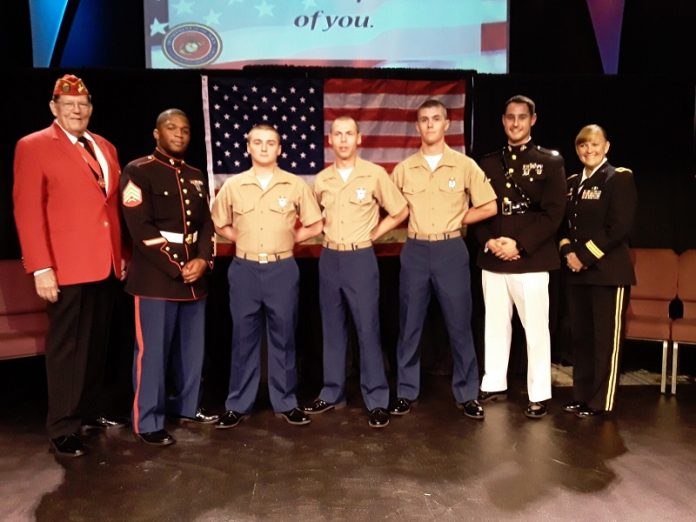 It was a different kind of boot camp graduation for four U.S. Marines from Fayette County. Required to evacuate Paris Island with the pending arrival of Hurricane Dorian, the four had their own graduation on Sept. 6 at Whitewater Church in south Fayette.
The four Fayette County residents set to graduate from boot camp on Paris Island, S.C., had the graduation halted on Sept. 2 due to evacuations in the wake of Hurricane Dorian. The impending hurricane and evacuation meant all graduation activities for families and friends had to be cancelled, said Whitewater Church Pastor David Hornbuckle.
But that did not stop Whitewater Church from planning their own version of the ceremony to give the young Marines the graduation they deserved, said Hornbuckle, whose son Aaron was one of the graduates.
The four Marines included Pvt. Clay Fordham, Pvt. Aaron Hornbuckle, PFC David Wilkins and PFC Riley Walsh.
Graduation for the four was held Sept. 6 at the church on Ga. Highway 92 South.
Fayette County resident and Brigadier General Nikki Griffin-Olive (US Army) was the keynote speaker at the public ceremony. Also participating in the graduation were Captain Jarred Sabia (USMC), Sergeant Quayshaun Spence (USMC) and Vietnam veteran Guy Mitchell (USMC).