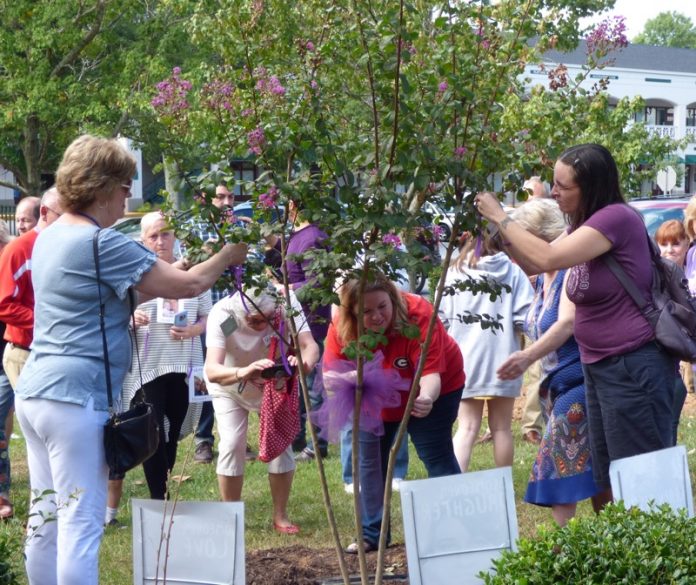 Family members from Fayette and Coweta counties assembled in downtown Fayetteville on Aug. 31 for the unveiling of a Crepe Myrtle at the new gazebo, in remembrance of those who lost their lives to drug overdose.
The City of Fayetteville, as part of International Overdose Awareness Day, supported the planting of a memorial Crepe Myrtle beside the new gazebo on the corner of Ga. Highway 54 and Ga. Highway 85.
A 12-inch by 12-inch black granite memorial plaque was placed beside the tree. The plaque read:
This tree is planted in remembrance
For all loved ones lost to overdose in Fayette County.
Courtesy of the Drug Free Fayette Coalition
It was a solemn occasion as friends and family members wrote the names of their lost loved ones on purple ribbons and tied them on the tree.
Drug Free Fayette board member and Fayetteville Councilwoman Kathaleen Brewer spoke briefly, referencing the often-misunderstood reality associated with drug addiction.
"There is no addict who wants to be an addict," Brewer said, noting the extreme potency of many pain killers, the need for more mental health services and access to those services. "My heart goes out to you."
For more information about the coalition, visit www.drugfreefayette.org.