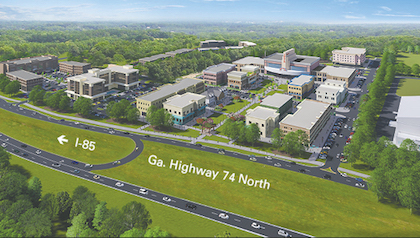 It was two years ago that a large mixed-use development was approved for Ga. Highway 74 and the Sandy Creek Road area on Tyrone's north side. The project was back before the Tyrone Planning Commission on Aug. 22, requesting different zoning for the project that will be essentially the same.
Representing the property owner, architect Bill Foley requested that two tracts totaling nearly 44 acres, be zoned CMU (Community Mixed Use) to accommodate the proposed Sandy Creek Corners mixed-use development on the southeast corner of Hwy. 74 and Sandy Creek Road.
Commissioners on a unanimous vote recommended that the Town Council approve the request.
The two tracts are currently zoned OI (office institutional) totaling 42 acres and AR (agricultural residential) at 1.86 acres.
Similar in look to the previously-approved Founders Square mixed-use plan, Foley noted the concept to construct approximately two dozen buildings which would house 100,000 sq. ft. of retail space, 35,000 sq. ft. of restaurant space, 76,500 sq. ft. of office space, 21,000 sq. ft. of townhome space, 101,000 sq. ft. of residential loft space and a hotel and theater.
By ordinance, building height is limited to 45 feet.
The concept plan also featured a large greenbelt and a path system throughout the property.
There was only one speaker during public comments, questioning what traffic accommodations would come with the plan.
It was noted later that the property during the Founder's Square approval process had been approved by state bodies as a Development of Regional Impact, which will come with required, state-approved upgrades to Sandy Creek Road and Hwy. 74.
Included in the work will be the expected signalization at Sandy Creek Road and Hwy. 74.
The proposed rezoning will go before the Town Council in September.