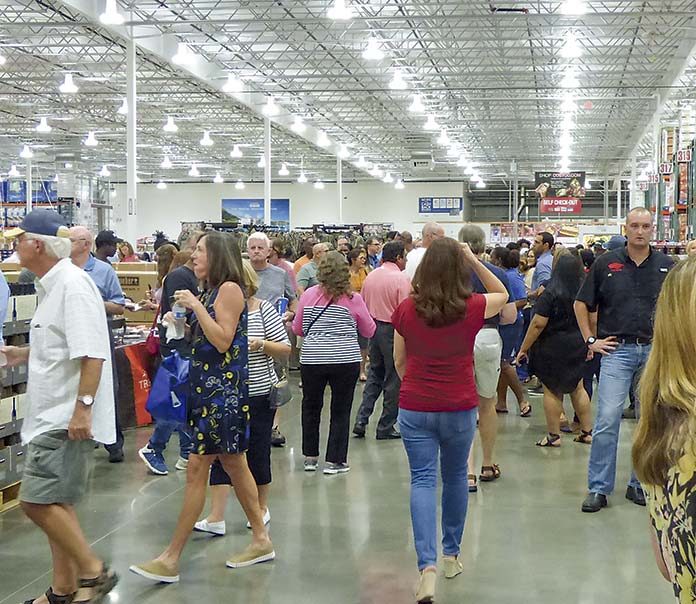 41% of counted vehicles had Fayette tags, 37% had Coweta plates — 
It was just over a year ago that Costco expressed an interest in coming to the growing Fischer Crossings area along Ga. Highway 34 in east Coweta County. It was on Aug. 22 that the 155,000 sq. ft. warehouse club store opened. The crowds were enormous.
Located on northeast corner of Hwy. 34 and Fischer Road, approximately a mile from Peachtree City, Costco invited the community to see the store and have dinner on Aug. 21, one day before the grand opening. That event had a few thousand turning out to see the new store and chowing down on a variety of free prepared food offerings.
It was on the following morning that Costco opened for business.
With no other Costco presence in this part of metro Atlanta, it has been expected that the store at Fischer Crossings would be a regional draw.
To test that assumption, this reporter during mid-afternoon on Saturday, Aug. 24, walked the customer parking lanes to tabulate the counties of residence for the vehicles for which that information could be obtained.
The tabulation showed that 41 percent of vehicles were from Fayette County, 37 percent were from Coweta County, 5 percent were from Fulton and 17 percent were from 17 other Georgia counties.
It should be noted that the county of residence for many of the vehicles could not be determined, given that large numbers had "In God We Trust" over the county designation area, while others had various types of vanity plates for which the county designation was not listed. Still others were vehicles from other states.
In terms of the economic impact, and representing the Fischer Crossings property owner, Herman Neese at the June 18 meeting of the Coweta County Commission said the wholesale store is expected to employ 300 people and is aiming for annual sales of $200 million.
The northeast corner of Fischer Crossings will also be home to a 3-story Kaiser Permanente medical office building totaling 85,000 sq. ft. Neese said Kaiser will employ approximately 300 people, with average salaries of $90,000.
Also recently approved, and to be situated immediately north of Costco, is the Fortress Ventures retirement community featuring independent living, assisted living and memory care.
Neese said the $50 million retirement community project will include 162 units and will provide 300 jobs.
Also slated for the northeast corner of Fischer Road and Hwy. 34 are a number of outparcel sites which will likely announce in the coming months.
The new developments will join NCG Theaters and Wendy's restaurant, situated on the east side of the northeast quadrant.