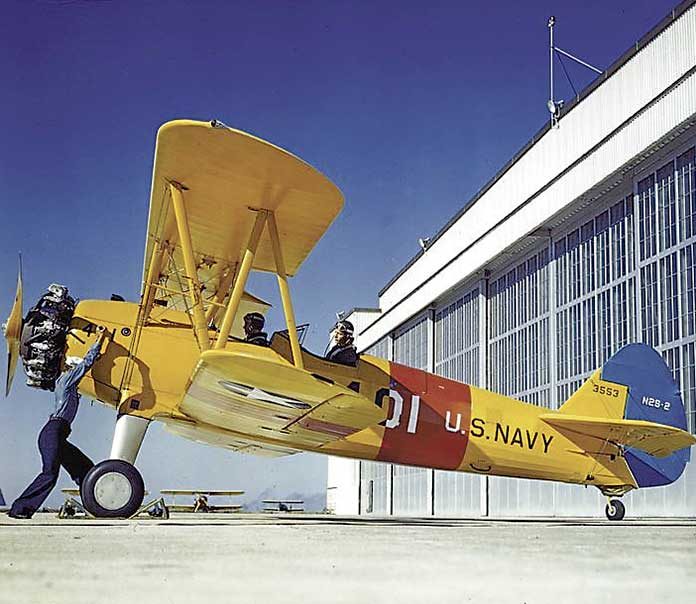 The Commemorative Air Force (CAF) Dixie Wing Warbird Museum has acquired a Stearman (Boeing) PT-17 (Model 75) biplane formerly used by the military as a primary trainer aircraft in the 1930s and 1940s. The Wing hopes to restore the plane with the talents of the Wing's volunteer mechanics and other members. More than 10,600 Model 75s were built and used by the U.S. Army Air Corps, The United States Navy (as the NS and N2S) and the Royal Canadian Air Force (as the Kaydet) throughout World War II.
"The Stearman is one of the most iconic trainers of WWII, utilized in the primary training stage in which pilot candidates took to the air," said Wing Leader Jim Buckley. "We think this will thrill many aviation and WWII enthusiasts when it is restored to flying condition."
This aircraft was accepted by the Navy on July 9, 1941.  It was assigned to the Naval Air Station (NAS) at Corpus Christi, Texas, and was transferred to Naval Reserve Aviation Base (NRAB) in Detroit, Mich., on April 9, 1942.  Its next assignment was to Naval Air Intermediate Training (NAIT) at Rodd Field, Corpus Christi, Texas, on April 1, 1944. The aircraft was assigned to the pool in Dallas In November 1944 until it was stricken from the record on Nov. 30,1944. This aircraft bears serial number 75-1308, USN Bu No. 3531, and FAA Registry number N50329.  Stearman became a subsidiary of Boeing in 1934.
About the Commemorative Air Force
The Commemorative Air Force (CAF) is the world's largest flying military aircraft museum. For more than 60 years, the CAF has been dedicated to honoring American Military Aviation through flight, exhibitions, education and remembrance. Fulfilling its mission, the organization maintains airplanes in flying condition, taking the aircraft to communities across America to experience first-hand the sight and sound of the aircraft in flight.  The CAF is a non-profit educational association with more than 11,000 members and a fleet of 174 vintage military aircraft distributed throughout the U.S. For more information visit www.CommemorativeAirForce.org.
About the Warbird Museum
The CAF Dixie Wing, based in Peachtree City, Ga., was founded in 1987. One of largest units of the Commemorative Air Force, the unit maintains and flies seven WWII aircraft including a P-51 Mustang, FG-1D Corsair and rare types such as the SBD Dauntless dive bomber and P-63A Kingcobra. The unit, composed of 300 volunteers, is a non-profit, tax-exempt organization. http://www.dixiewing.org/.