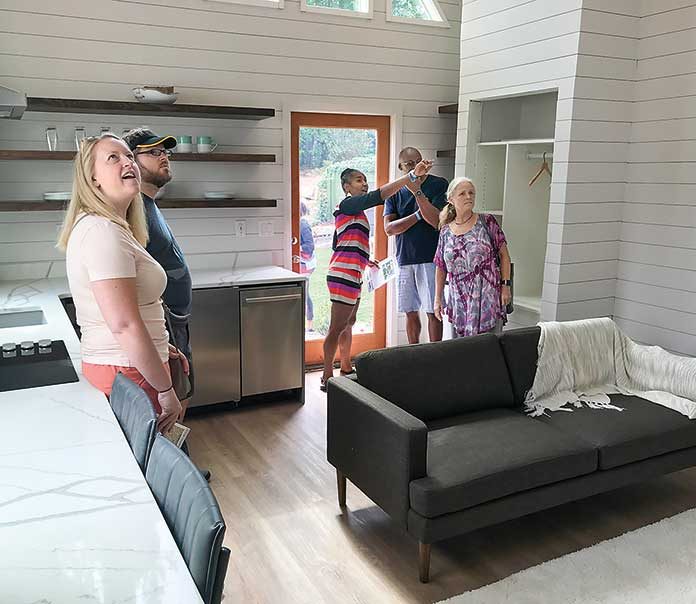 Homes will be for rent at first, then for sale — 
A cluster of micro homes at the Pinewood Forest mixed-use community in Fayetteville debuted July 20, showing off the newest residential feature of the growing development.
Situated near Hood Road near the southeast corner of the 234-acre development, the Pinewood Forest Micro Home Village features six homes with walkways surrounding a large greenspace with a seating area and a meeting space, termed a "burrow" situated off the greenspace and nestled under the elevated landscape buffer adjacent to Hood Road.
Created by design architect Jefferson Browne, the six micro homes range from 408-542 sq. ft. Each of the micro homes include private courtyard and patio space, and direct access to the trail system that winds through the entire development.
Pinewood Forest President Rob Parker said current plans for the short-term are to rent the micro homes so that residents can have the ability to explore and experience the living environment. Once accomplished, the micro homes will be sold.
Each of the 1- or 2-bedroom micro homes feature elevated ceilings, smart home technology, high-efficiency windows and doors and custom finishings, according to the MicroLife Institute.
Beyond that, and mirroring the larger Pinewood Forest residential offerings, the Pinewood Forest Micro-Home Village is the first all geothermal micro community in the U.S. Geothermal systems, coupled with solar power and strict building standards, also allow the micro homes to be net-zero buildings.
A zero-energy building produces enough renewable energy to meet its own annual energy consumption requirements, thereby reducing the use of nonrenewable energy in the building sector, according to energy.gov.
As for what they future of micro homes at Pinewood Forest holds, Parker said, "We will do additional micro home neighborhoods by creating market demand."
The July 20 unveiling included tours of the new homes, along with a Lunch and Learn event presented by Browne, Pinewood Forest Builders Guild Director Brett Baker and MicroLife Institute Executive Director Will Johnston.