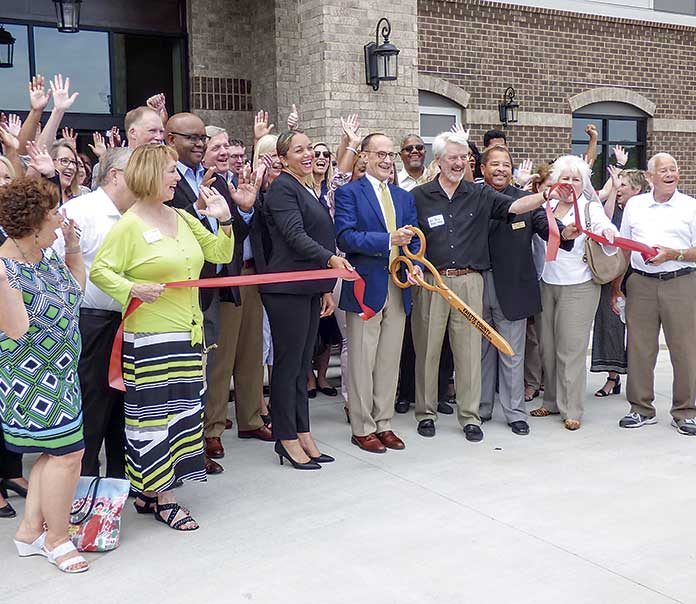 60% of apartments to be designated 'affordable,' with rents from $590 for 1 bedroom to $875 for 2 bedrooms —
The $44 million HearthSide Club Lafayette active senior living apartments for those age 62 and up had its grand opening June 27, with Fayetteville Mayor Ed Johnson welcoming the "phenomenal facility" to the city's downtown historic district.
75 of the 125 apartments (60%) will be designated affordable (subsidized)
An upscale project of Atlanta-based OneStreet Residential, the 4-story HearthSide Club Lafayette featuring 125 independent living apartments is located on Meeting Place Drive off Ga. Highway 54 adjacent to the Hampton Inn and The Villages residential development. The development is two blocks from the new City Hall and park space.
HearthSide Club Fayette includes 125 apartments, of which 53 are 1-bedroom and 72 are 2-bedroom. Sixty percent of the apartments will be designated affordable (subsidized), with 1-bedroom rents ranging from $590-730 and 2-bedrooms ranging from $705-875.
The remaining 40 percent of the units will be available for $1,150-1,350 for 1-bedroom and $1,450-2,000 for a 2-bedroom.
Speaking to a crowd of approximately 150, Mayor Johnson said, "This is a phenomenal facility" that is part of the city's focus "to provide quality living for all citizens."
Also speaking on the project was OneStreet Residential Senior Managing Partner Dave Dixon.
"Financing made Class A living possible, including for those on fixed incomes," he said, adding that OneStreet both builds and manages its properties.
Noting the demand for senior housing options, Dixon said that, though now set to open, HearthSide Club Lafayette is already 50 percent leased.
Dixon noted the company's philosophy that is committed to social, physical and spiritual health and vibrancy in a community that fosters connectons with others, both in the company's developments and in the community.
HearthSide offers amenities such as instructor-led fitness and cardio studios, an outdoor courtyard with additional features, a wellness center and a bike check-out program.
Financing for the $44 million project came largely from SunTrust Bank and its affiliates, but also with the assistance of housing tax credits through the Ga. Department of Community Affairs. The project is the city's first Tax Allocation District (TAD) development at $127,885 per year.
The total cost of the development was $44 million, including $17.9 million in construction costs and $26.6 million in total development costs.
Designed by architect Bill Foley, HearthSide Club attained EarthCraft Multi-family and Community certification using sustainable building practices, energy-efficient appliances, indoor air quality improvement and LED lighting.