See a gallery of Kelley O'Hara over the years, following the story below —
When Fayette County's youngest soccer players slide on their shin pads and lace up their cleats, they may dream that their game that day is on the world's biggest stage in front of a roaring crowd of flag-waving, rowdy fans.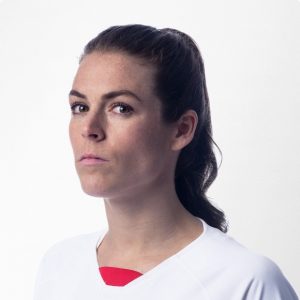 For Kelley O'Hara, a woman who grew up playing club ball with the Peachtree City Lazers, AFC Lightning and Concorde Fire, those dreams have come true multiple times.
Kids in Fayette County, and even their parents, now sport jerseys with her name and the number 5 on the back. They have watched as her career has taken her from the pitch at Starr's Mill High School to Stanford University, the Olympics, and now her third World Cup.
O'Hara has been a key member of the U.S. defense during the 2019 World Cup. The team went undefeated and unscored upon in group play, defeating Thailand, 13-0, Chile, 3-0 and Sweden, 2-0.
Ten minutes in, the USA's early pressure produced the game's initial breakthrough. Tobin Heath's through-ball was dummied by Lavelle, and Kelley O'Hara ran onto the ball down the right wing before whipping in a far post cross. The ball flew over England defender Lucy Bronze and straight to Press, who powered a header past Telford into the upper left corner for her first goal of the World Cup and the 1-0 lead. — from ussoccer.com
In the knockout round, the team produced three straight 2-1 wins over Spain, France and England to make the final. They will meet The Netherlands on July 7.
When the women take the field on Sunday (kickoff at noon, EST), local fans will think about how O'Hara's road to Lyon started on fields in Fayetteville and Peachtree City.
Fayette County is a hotbed of soccer talent. The club teams are always contending for state and regional titles and nearly every spring sees at least one Fayette County high school bring home a state trophy.
O'Hara was a member of the 2006 GHSA state champion Starr's Mill Lady Panthers and was named a National Soccer Coaches Association of America, Gatorade, and Atlanta Journal Constitution Georgia State Player of the Year that year.
During the SMHS team's championship season, O'Hara recorded 20 goals and 16 assists. She was captain of the Starr's Mill squad her junior and senior year, years she was also named a Parade All-American, while also playing with national teams. She netted 10 goals for the U-17 national team in 2005.
After high school, O'Hara went west to play for Stanford University. She appeared in 87 games for The Cardinal, scoring 57 goals, including 26 goals during her senior season. She also captured the Mac Herman Trophy that year, which is awarded to the best overall women's college soccer player. Stanford played for a national championship in her senior year but fell short to the University of North Carolina, 1-0.
O'Hara did not have to wait long before she had another championship season. She started her professional career with FC Gold Pride (Bay Area) in 2010 and had six goals during the team's championship season.
In 2011 she was a member of the Boston Breakers and had four goals and an assist while starting in 11 of 13 games. O'Hara planned a return to Georgia to play for the Atlanta Beat the next year, but the Women's Professional League folded before the 2012 season began.
"I talked to different teams, but I started to come to the conclusion that if I had the opportunity to play in Atlanta I would," O'Hara said after signing with Atlanta. "There is an opportunity to be off the field with friends and family and to also have them come to the games. I think that was a big factor in my decision to play in Atlanta."
Although the dissolution of the league was a disappointment for all involved, O'Hara had been appearing in games with the U.S. Women's National Team since 2010. She was called up to the roster again in 2011 for the World Cup, appearing in one game during the team's campaign. She faced off against Sweden in the group stage. The U.S. team placed second in that year's tournament.
When the team began preparing for the 2012 Olympics, O'Hara, primarily an offensive threat at forward or midfield during her career, began playing on the defense as either a left or right back. She played every minute of the team's run in the Olympics, recording one assist and bringing home the gold medal that year.
"The youth in our area now have a real life player that they can look up to," said James Galanis, former coach of the Atlanta Beat and Director of Soccer Operations for Universal Soccer Academy after O'Hara signed with the Beat. "She's just a fantastic soccer player with great characteristics. She is one of the hardest working players out there, and she is really fit."
When the next World Cup rolled around in 2015, O'Hara did not appear on the field in group play. She made the most of her appearances in the knockout round though, notching a goal, her first international goal, in the semifinal game against Germany. She played in the final, a 5-2 win over Japan, replacing Megan Rapinoe in the second half. The U.S. captured their first World Cup title since 1999 with the win.
O'Hara is now one of the seasoned veterans on the national team, only five players on the roster have more international appearances. That experience has kept the team on an even keel during the 2019 World Cup as they have faced significant challenges since the final game of group play against Sweden.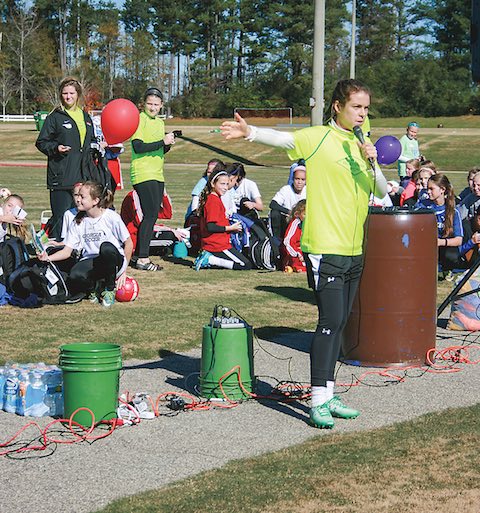 As a player who has played in big games throughout her entire career, she can now share that experience with some of the younger players on the roster.
"There were players on this team who gave me sisterly advice and put their arm around me when I needed it and set a good example for me when I first got on this team," O'Hara said. "It's cool to be able to do that for the younger group of girls. Now that I'm able to do that for them, it feels good."
O'Hara has collected two assists during this World Cup run. Her cross setting up a Christen Press header for the first goal on Tuesday in the semifinal game against England may have been one of the biggest in her career.
Next on the Schedule: The USA faces the winner of Wednesday's semifinal between 2017 UEFA Women's Euro champions the Netherlands and 2016 Olympic runners-up Sweden in the 2019 FIFA Women's World Cup Final on Sunday, July 7 at 11 a.m. ET at Stade de Lyon in Lyon.
The results in the knockout round have been closer than the scores during group play, but the U.S. has been holding steady with solid resolve. That is due in no small part to the work of O'Hara, an anchor on the defense who has the ability, and the go ahead, to push up the field and set the table for the offense.
"We still have that grittiness and that heart that this team has always had, but we've added a lot of technical and tactical experience," O'Hara said in an appearance on Good Morning America earlier this week. "It's pretty cool to see it all come together on this stage."
There have been impromptu game watching parties throughout Fayette County during the World Cup and there will be even more on Sunday afternoon.
Some people may not have watched O'Hara score goals for the Lazers, Lightning, or Lady Panthers, but for those who were soccer fans, parents of players (or reporters for a local newspaper at the time), they would agree that it is pretty cool to see O'Hara's career reach the biggest stage in the world yet again. — Written by Michael Boyan, who covered O'Hara during her high school years while he was sports editor for The Citizen. Mike now works for Piedmont Fayette Hospital.
More photos of Kelley O'Hara since her high school days: