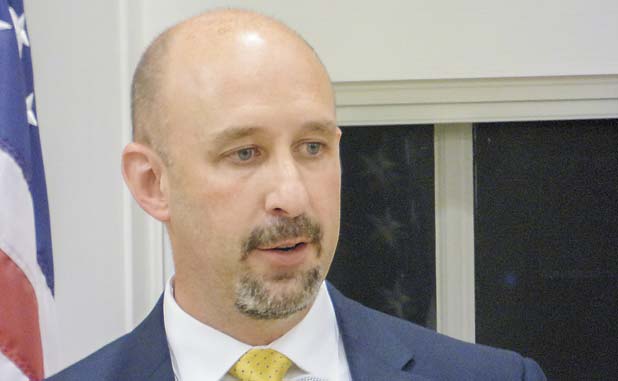 David Stover. Photo/The Citizen.
State Rep. David Stover (District 71) has resigned his seat in the General Assembly. Stover informed Gov. Brian Kemp of his decision in a June 25 letter.
Stover entered the General Assembly after a winning the seat in a 2013 special election.
District 71 includes a large portion of east Coweta County and a small section of northwest Peachtree City.
Stover's June 25 letter to Kemp that included his immediate resignation is included below in its entirety.
"My time in the Georgia General Assembly has been one of the greatest honors of my lifetime. This last legislative session under your leadership was the best during my nearly six and a half years in the General Assembly. It is a great Honor to have the trust of the people of District 71 and represent them in the Georgia House. When I ran for re-election in the primary and general election in 2018 it was my full intention to serve through the end of my term in 2020 and evaluate early in the 2020 session whether I would run again.
"In August 2018, I married a wonderful lady who is a great blessing to my life and brings to our marriage the joy of her two children. Recently we were granted a great blessing – a baby on the way, my first biological child, due in the early days of the 2020 legislative session. That is a game changer. My first priority is my family and the pending birth of our baby, is something I don't plan to miss a minute of and my wife deserves for me to be by her side as she brings our baby safely to term. I want to be a day one and everyday hands on caregiver and co-nurturer when our baby is born. Therefore, I am tendering my resignation as District 71 Representative in the State House, effective today, June 25, 2019.
" I am cognizant of your duty to call for a special election and the timeline requirements by law to do so. It is my hope and desire that my resignation date gives you the timing flexibility you will need to ensure a new Representative has been sworn in before the end of the year and ready to go in the 2020 Session.
"I want to thank the voters of District 71 for their votes in electing me the first time in early 2013 special election and run-off and again in 2014, 2016 and 2018 primary challenge and contested general election. I will miss serving the citizens and I will miss working with my fellow legislators and you in the years to come. But I am confident the very involved and concerned voters of District 71 will pick a well-qualified Representative. I have reached out to the members of our local delegation to ensure any constituent needs are covered in the interim."
Coweta County Elections Director Jane Scoggins said the date for the special election, which is set by the state, has not been determined.