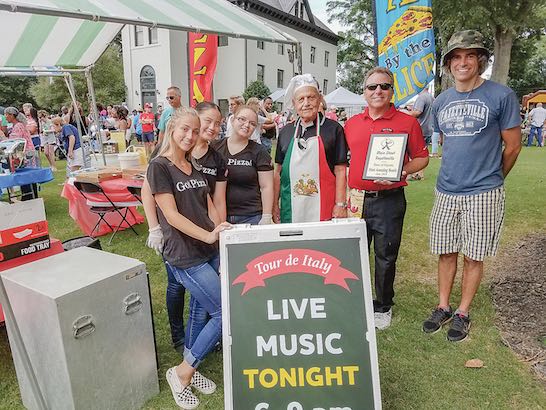 T

he 2019 Taste of Fayette foodie festival hosted thousands of participants enjoying the event and three restaurants walking away with "best of" bragging rights.
---
Photo above, Tour de Italy received the Most Amazing Booth award at Sunday's annual Taste of Fayette event. Below Fusion Chefs was named Finest Taste, and Orleans Brews & Beignets won the Finest Treat award. Photos/City of Fayetteville.
---
Fayetteville spokesman Danny Harrison said more than a dozen Fayette restaurants competed in this year's festival, and judges worked hard to determine the winners. When the tasting was over, The Fusion Chefs of Fayetteville took home "Finest Taste", Orleans Brews & Beignets earned "Finest Treat", and Tour de Italy was awarded "Most Amazing Booth".
"This is the second consecutive year that Taste of Fayette was held on the lawn of the Historic Fayette County Courthouse," Harrison said. "It had been held across the street at Stonewall Village/Jack Day Park in 2017 and prior years. Many festival goers commented that they love the new venue, which offered much-appreciated shade courtesy of the many centuries-old oaks."
"We had a fantastic Taste of Fayette this year, and we are grateful to everyone who made it possible," said Brian Wismer, Downtown Development Director for the City of Fayetteville. "Our Main Street Fayetteville team did a great job of organizing the event, our volunteers once again stepped up and worked hard for us, and our vendors were amazing as well. It was an all-around good time."
Wismer noted that, while counting the crowd over a four-hour event is nearly impossible, there were probably a couple of thousand attendees.
"We really want to thank everyone who came out to participate in this year's Taste of Fayette," Wismer said. "This is the biggest fund raiser each year for our Main Street Fayetteville program, which helps us provide community events throughout the year."
Learn more about Main Street Fayetteville at www.DowntownFayetteville.org.