Sheriff Babb: 'We're in a bidding war, and we're bleeding'; other county workers would receive 3.25% raises — 
The first of two public hearings on the Fayette County FY 2020 budget was held at the June 13 meeting of the Fayette County Commission. No one from the public spoke at the meeting which reviewed the $55.2 million general fund budget that will include requested pay increases for public safety and other county staff.
Central to the budget this year, which will include maintaining the millage rate without a rollback, was a proposal from the April retreat that identified the need to increase pay for public safety employees which account for 40 percent of the county workforce.
Since many Fayette properties increased in assessed value this year, keeping the same rate as last year will result in higher tax bills for those whose values went up.
A proposal at the retreat by County Administrator Steve Rapson included a 9.09 percent increase for all public safety employees, a merit increase for all other county employees with an effective rate of 3.25 percent, an increase in the employee retirement multiplier and the 8.4 percent cost of the employee healthcare renewal.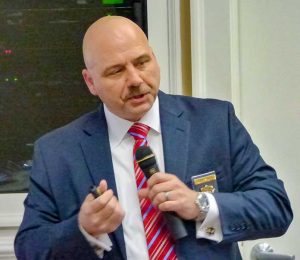 "We're in a bidding war and we're bleeding," Babb said at the retreat, noting that local agencies and those statewide and beyond are increasingly raising pay. Citing examples, Babb said Coweta County deputies start at approximately $42,000 and Georgia State Patrol recently increased starting pay to $45,000. The current starting pay for Fayette deputies is $38,609, below the starting pay of both Fayetteville and Peachtree City.
Fayette's municipalities during their budget talks are also addressing public safety pay.
As proposed, the general fund will carry a $28.6 million fund balance.
An issue to be addressed by commissioners at the next public hearing will be a potential salary supplement for superior court judges, state court judges and the solicitor, juvenile and magistrate court judges, county clerk and constitutional officers. Those supplements, if approved, would total approximately $65,000.
County Administrator Steve Rapson said the various supplement requests would be packaged individually at the next public hearing for commissioners to consider.
The final public hearing and budget approval will come at the June 27 meeting.