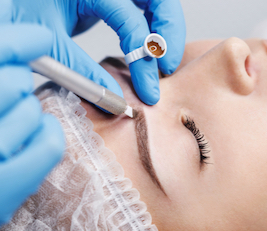 The potential for allowing eyebrow microblading to be performed in Fayetteville will have to wait a few weeks before a decision is made.
The item was tabled a the June 6 City Council meeting. Fayette County Environmental Health County Manager Robert Kurbes is expected to return to the council in the coming weeks to report on a new state ordinance pertaining to microblading.
Microblading is a form of tattooing. Unlike a regular tattoo, microblading is a form of tattoo artistry where pigment is implanted under the skin with a manual handheld tool instead of a machine, according to elle.com
City staff at the May 16 meeting said they regularly receive inquiries on regulations for microblading and body art studios.
Senior Planner Julie Brown in May said cosmetology-related businesses previously offered a limited number of services including haircuts, hair coloring, perms, manicures, pedicures, waxing, body massage and facials. The services currently offered by these businesses also include but are not limited to aqua therapy, aerial yoga, meditation pods, body wraps, Botox, permanent makeup and microblading of the eyebrow.
Brown said Gov. Nathan Deal in 2018 signed Senate Bill 461 making microblading of the eyebrow a legal tattoo effective July 1, 2018. Previously, the procedure had been considered a misdemeanor under the law because it was included in the prohibition of tattooing within one inch of the eye, Brown added.
Additionally, said Brown, the city's current regulations require that all tattooing within the city limits must be performed by a physician duly licensed to practice medicine within the state of Georgia.