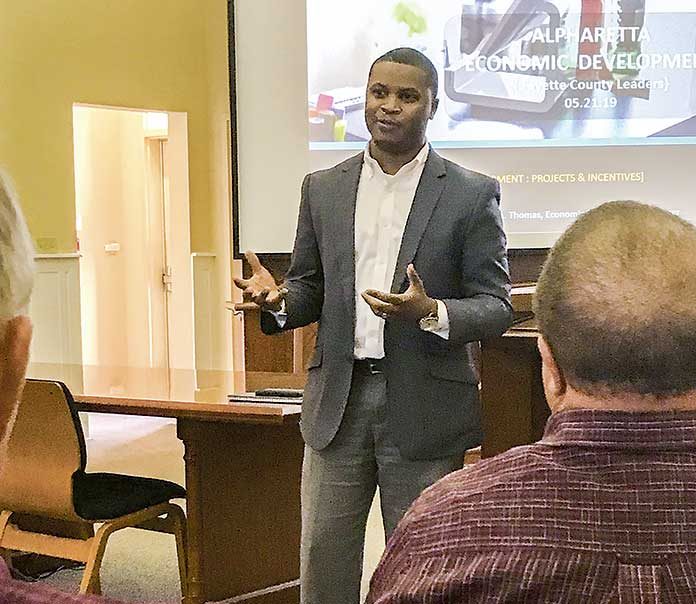 Members of the Fayette County Development Authority board were recently joined by elected and appointed officials and business people from across Fayette to hear about Alpharetta's highly successful mixed-use development, Avalon.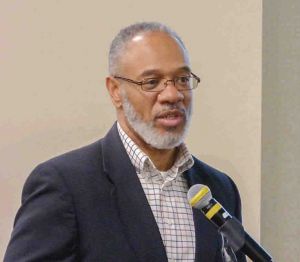 Held at Fayetteville City Hall, development authority Chairman Darryl Hicks began the meeting saying, "We always want to explore how to make sure the county can prosper. We want to continue to learn, and we're not ashamed to learn from other people."
Hicks explained that a facet of a community's development includes seeing what other communities have accomplished. One of those communities is Alpharetta in north Fulton County, with about 67,000 residents and home today to more than 700 tech companies and regional corporate headquarters.
With that, Alpharetta Development Manager Matthew Thomas spoke about his city's efforts and the development of the large, multi-story, mixed-use Avalon project.
Thomas began his remarks noting that economic development is all about jobs, tax revenues and quality of life. That quality translates into a great place to work and live with amenities and tourism, he explained.
"Avalon is the signature project in Alpharetta. It helped shape and define the city. It was also a risk. Nothing had been done like this in the Southeast in the suburbs. The city took the risk," Thomas said, then noting what leaders across Fayette have been told for years. Alpharetta was affluent, but did not have much commercial or mixed-use development. "People rather work where they live. Now we've got a very attractive, new environment. Over time, the risk proved to be right."
So what is Avalon? Situated near the intersection of Ga. highways 400 and 120, Avalon is a walkable, multi-story mixed-use development situated on 86 acres that opened in 2014.
Billed as a "New experience in the timeless art of living well," Avalon features 570,000 sq. ft. of retail, more than a dozen chef-driven restaurants, 750,000 sq. ft. of Class A office space, a 330-room hotel with a 47,000 sq. ft. convention center, 25 single-family homes, 75 courtyard-attached homes and multi-story luxury apartments that provided a total residential population of 800. Avalon is the state's first gigabit community, according to the Avalon website.
Turning his attention to Fayetteville and Fayette County, Thomas said, "You have a great location and great assets. You're the Georgia film capital. I encourage you to leverage that. Nowhere else in Georgia has that."