9% pay raises for public safety, 3.25% for county workers plus pricier benefits — 
An initial look at Fayette County's 2020 budget shows $55.2 million in general fund revenues. The budget, if adopted as proposed, will be followed by commissioners maintaining the millage rate rather than rolling it back, due to the expense of providing raises for public safety and other employees. Public hearings on the budget will be held on June 13 and 27.
The proposal to provide a needed increase to public safety employees, which totals 40 percent of the county workforce, came at the commission's retreat in April. After years of full property tax rollbacks, the proposal would mean such a rollback would not occur. An example of the need to address pay came from Sheriff Barry Babb, who said that since Jan. 1 his office currently had 18 deputy vacancies, or 12 percent.
A proposal at the retreat by County Administrator Steve Rapson included a 9.09 percent increase for all public safety employees, a merit increase for all other county employees with an effective rate of 3.25 percent, an increase in the employee retirement multiplier and the 8.4 percent cost of the employee healthcare renewal.
"We're in a bidding war and we're bleeding," Babb said at the retreat, noting that local agencies and those statewide and beyond are increasingly raising pay. Citing examples, Babb said Coweta County deputies start at approximately $42,000 and Georgia State Patrol recently increased starting pay to $45,000. The current starting pay for Fayette deputies is $38,609, below the starting pay of both Fayetteville and Peachtree City.
Fayette's municipalities during their upcoming budget talks are also expected to address public safety pay.
As with the May 30 commission meeting, commissioners at the retreat, with the exception of Commissioner Eric Maxwell agreed with the proposed increases. While he supported the idea of increasing pay, Maxwell at both meetings said could not vote to do so because, when running for election, he promised not to vote for a millage increase.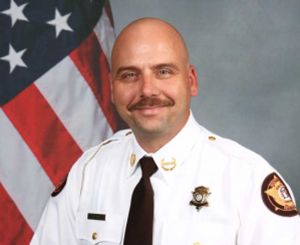 If adopted as proposed, the budget will not require a millage rate increase, but it will negate a full rollback.
The first of two public hearings will be on June 13 at 6:30 p.m., followed by a second hearing and adoption on June 27 at 6:30 p.m.