Leigh and Jeanne Blood celebrate 50 years of marriage June 10. 
The couple met at North Georgia College and graduated together in the Class of 1969. Leigh was a history major. Jeanne was a home economics major. 
Their wedding ceremony and reception were held at Audubon Forest United Methodist Church in Atlanta.
A Lieutenant in the Army at the time, Leigh was sent to serve in Vietnam soon after their wedding. Following, there were assignments in Fort Benning, Georgia (Fort Benning), Colorado, Virginia (Fort Eustis), North Carolina (Fort Bragg), and West Germany (Heidelberg and Frankfurt). 
His final assignment brought the family back to Georgia to Fort McPherson in late 1985 and it was then they became Fayette County/Peachtree City residents. Retiring as a major after 20 years of military service, Leigh worked for Ryder Logistics and BellSouth/AT&T before a second retirement in 2012. In retirement, he enjoys a part time job at Gillroy's Hardware Store and has served a couple terms as Post Commander with the American Legion Post 50 in Peachtree City.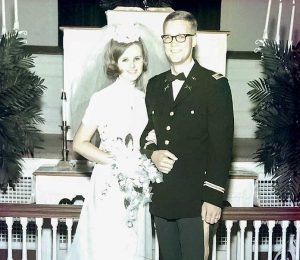 In addition to supporting two daughters through schoolwork, band, and extra curricular activities at Huddleston, Booth, and McIntosh, Jeanne worked several years for the Fayette County Extension Service and Pine Valley Girl Scout Council.  She is now a certified Suzuki violin instructor, teaching more than 20 students, and is affiliated with the Fayette Fiddlers.  Leigh and Jeanne continue to be a faithful members of Peachtree City United Methodist Church where Jeanne has been the volunteer Handbell Director since 1987.