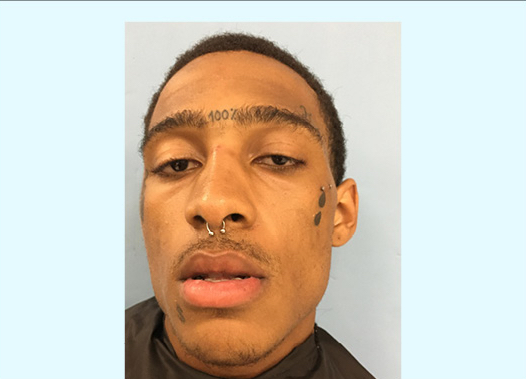 Jaheim D. Lassiter. Photo/Fayette County Jail.
The man accused of carjacking a vehicle in Peachtree City on May 19 was arrested on May 22 in South Fulton by Peachtree City investigators and the U.S. Marshals Service.
Jaheim Dazon Lassiter, 17, of Jonesboro, was charged with aggravated assault, hijacking a motor vehicle, 1st degree, and possession of a firearm during the commission of certain crimes, according to Peachtree City police.
At this time, the investigation into the incident is still ongoing, said Peachtree City Assistant Police Chief Stan Pye.
The vehicle was stolen at gunpoint from the Wilshire Pavilion shopping center in Peachtree City on May 19 and was later found abandoned in Palmetto after a pursuit in portions of Fayette and Coweta counties. The owner of the stolen vehicle was not injured.
Peachtree City Police Department spokesman Matt Myers said the carjacking occurred at the drive-thru area of the SunTrust Bank at approximately 8:19 p.m.
The owner of a BMW was approached by a black male who brandished a firearm and ordered the driver to surrender the vehicle, said Myers, adding that the owner gave up his vehicle and was not harmed.
Two other black males then exited a gray Ford F150 pickup, later determined to have been stolen from College Park. The three males entered the BMW and fled the area, heading north on Ga. Highway 74, Myers said.
Myers said a Peachtree City officer and a Fayette County Marshal located the vehicle near the intersection of Ga. highways 54 and 74 and began pursuit. The units lost sight of the vehicle in the vicinity of Ga. Highway 34 and Fischer Road in Coweta County.
Myers said a Coweta County deputy subsequently spotted the vehicle and pursued it, then also lost sight of the vehicle.
The BMW was later found abandoned in Palmetto with the motor running, Myers said.
In an incident that appears to be related, a woman at a Swains Drive residence off Redwine Road was in her vehicle in the garage at approximately 8:10 p.m. when a black male entered the garage and asked for directions, said Sheriff Barry Babb, adding that the woman reported that the man was holding the front of his pants and appeared to have a gun.
The woman kept her windows up and doors locked, and began backing out of the garage. At that point, the male entered a gray Ford F150 and left the area, Babb said.