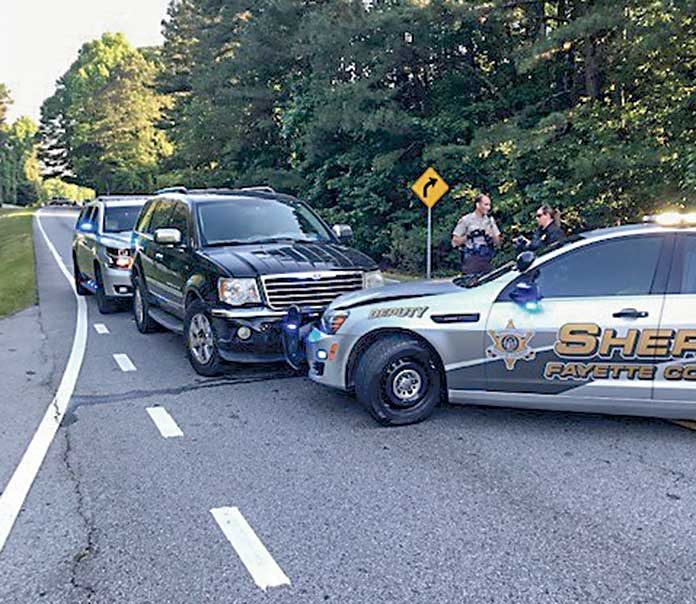 What began as a look-out for vehicle in Fayetteville on May 18 ended with two men arrested on multiple charges after a chase in north Fayette County. There were no injuries related to the chase.
Llewellyn J. Blackmon, 50, of Decatur, was charged with a litany of traffic violations such as felony fleeing and attempting to elude, obstruction speeding, reckless driving, stop sign violations, aggravated assault and revoked or suspended license. Blackmon was also wanted by East Point police, said Sheriff Barry Babb.
Andre Bernard, 46, of Stone Mountain, the passenger in the vehicle, was arrested based on active warrants from Atlanta, DeKalb County, Coweta County and Miami, Florida, Babb said
Babb said dispatch at 7:20 a.m. issued a look-out for a Chrysler Aspen after being contacted by a loss prevention employee at the Lowe's store on Ga. Highway 85 North.
A deputy in the area spotted the Aspen on Hwy. 85 North, where it turned onto Pavilion Parkway and committed a traffic violation. The deputy activated the unit's blue lights, but the Aspen would not pull over, and instead, ran several stops signs as it attempted to flee the area, Babb said.
Babb said the vehicle turned onto Ga. Highway 314 heading north and then onto Ga. Highway 279, passing vehicles in a no-passing zone.
At one point, as Blackmon was passing a vehicle, another vehicle entered the roadway from a side street. Blackmon then attempted to slow down, but collided with the vehicle. Undeterred by the collision, Blackmon headed in the opposite direction on Hwy. 279 where he missed hitting another vehicle and then struck a deputy's vehicle head-on, said Babb. It was at that point that the Aspen was corralled by patrol vehicles.
Blackmon and Bernard then fled the vehicle on foot but could not outrun deputies in a foot chase, and were taken into custody.
Babb noted that there were no injuries to any of the parties in the incident.