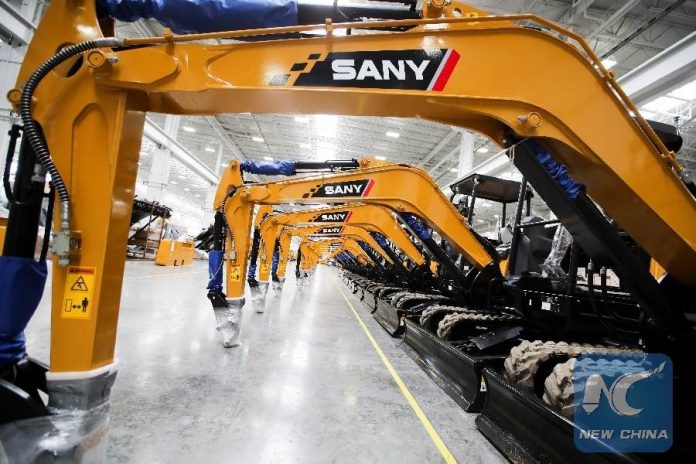 SANY excavators to be "made in USA" in June; local plant's manufacturing jobs to increase from current 25 to more than 300 within 5 years; plans include bigger facility —
SANY America, the U.S. subsidiary of China's heavy construction equipment manufacturer, is to start building its brand excavators "completely from scratch" in June in its Peachtree City, Ga., plant.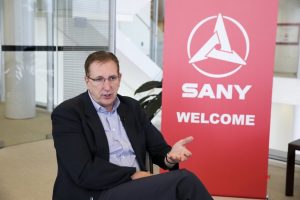 "Now, we've hit that kind of critical mass point, we are now in a position that we can actually start to build products here," Doug Friesen, chief executive officer (CEO) of SANY America, told the New China News Agency (Xinhua) in a recent interview at his office in Peachtree City.
The company, which started as a sales and service organization in 2006 in the United States, actually started "semi knocked-down" (SKD) — assembling partially prefabricated vehicles — in October last year, said Friesen.
"And in June of this year we change that to CKD ("completely knocked-down"), which means everything comes in as individual parts, and then we build that completely from scratch," he said.
"It's just like just brand-new start," Friesen said. "In the beginning, what we do is bringing everything in (from China), and then we build up a market through distribution channels of distribution."
The transformation is part of the strategic globalization efforts made by SANY, China's leading heavy equipment manufacturer based in Hunan Province, said Friesen, who assumed his current position in June 2017.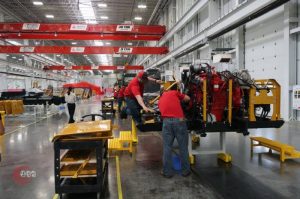 "This came strategically as a result of SANY having a very serious effort to globalize," he said. "And in this globalization effort, there is a recognition that wherever you sell, you should manufacture."
Sixteen SANY excavator models will eventually be brought to the United States, potentially serving the markets of Europe, North and South America, said the veteran business leader.
"We're shooting for 6,000 units (of excavators) here in the United States, and currently we're in about 1,000. That'll be all product lines," he said.
Referring to the open land around the manufacturing site, the CEO said this land is for expansion, which will lead to a significant growth in the number of local hired hands.
For its manufacturing team alone, SANY America planned to expand from 25 job posts to approximately 300 within five years, Friesen said.
— Story first appeared in China.org.cn. Xinhua News Agency or New China News Agency is the official state-run press agency of the People's Republic of China. (http://www.xinhuanet.com/english/2019-04/05/c_137953068.htm)