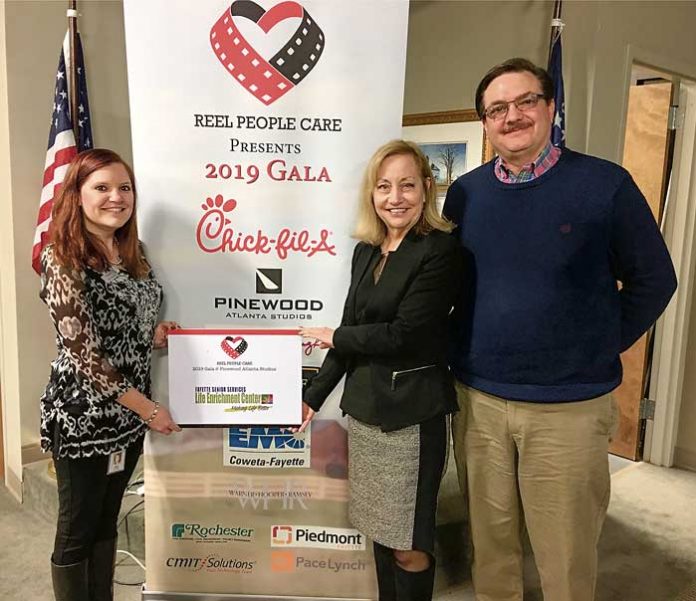 A Community That Works Together
Fayette Senior Services, Inc. (FSS), a 501 (C)(3) nonprofit organization, was one of the participating charities in this year's Pinewood Atlanta Studios Reel People Care Winter Gala that took place in January. This past month, along with 20 total participating charities, they gathered to celebrate another successful fundraising year for local nonprofits.
Welcomed by Dan Cathy, everyone celebrated the success with a review of the funds raised for Fayette County charities in addition to honoring the vendors who make it possible through donating their time, talents and materials to help everyone raise awareness, support, and funds for great local causes. Over $837,936 total was raised through this event with all net proceeds being donated back to the 20 participating charities.
"The local community plays such a significant role in the success of many nonprofits and the support and outpour of love our community has shown to Fayette County charities is overwhelming," expressed Morgan Lanier, FSS Program Development Coordinator. "This event in particular has made such a difference for our transportation program, allowing us to further our efforts for those in need of the service with funds raised from the event each year!"
This year, Fayette Senior Services celebrated the number ten. Though ten does not sound like a substantial number, it represents so much more for them and the clients they serve. More than 20,000 seniors live in Fayette County, many in need of social services provided on behalf of FSS. Hundreds of times each and every day, senior citizens in our community reach out for transportation assistance in order to get to life-saving medical treatments, doctor appointments, pharmacies, grocery stores, or just simply to get out of their house and engage with other people. Most of the time, family and friends close to them are able to answer that call, but at least one hundred times a day, due to a number of circumstances, they are not able to help.
Each weekday during 2018, FSS answered that call more than 60 times a day. With the efforts of those who help put on the Reel People Care Gala, FSS will be able to answer that call ten more times each weekday in 2019.
"This is something to celebrate," says Dan Gibbs, FSS Director of Operations. "Leaving the wrap-up celebration in February, we returned to the Life Enrichment Center at Fayette Senior Services knowing that a few more times each day, we will be able to answer the phone and say 'Yes! We can take you there!' FSS would like to thank everyone who makes this event possible and share their appreciation for everyone who makes donations to help charities in Fayette County serve those that need it most!"
For more than 40 years, FSS has been making a meaningful difference in the social, emotional, and physical well-being of adults age 50 and better in our community. For older adults who no longer drive, getting to essential medical appointments and other places can be a challenge, putting their health and well-being at risk. FSS provides safe and affordable door-to-door transportation options with wheelchair accessible vehicles available.
For more information about Fayette Senior Services transportation program, call Michelle Williamson, Transportation Coordinator at 770-461-0813 or visit fayss.org.