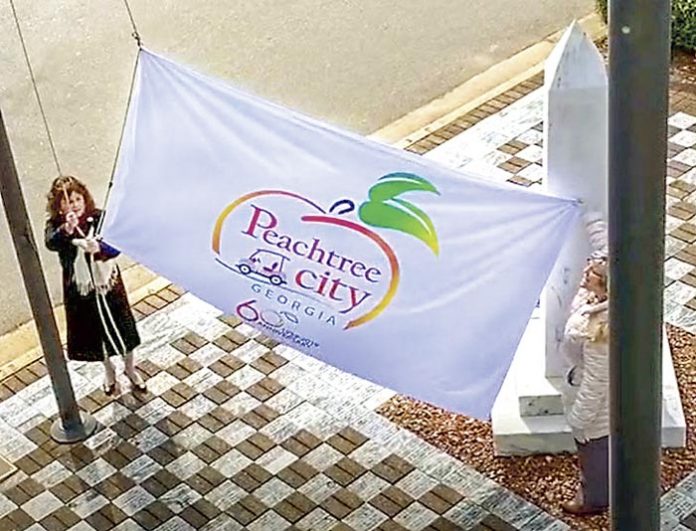 Peachtree City celebrates this week the date of its official founding as an incorporated city 60 years ago.
On Friday, March 8, join the conversation at Flat Creek Country Club about Peachtree City's 60 years of history. It's a casual mix and mingle from 6 to 8 p.m., featuring prominent Peachtree City speakers and our community.
---
Above, Peachtree City Mayor Vanessa Fleisch (L) raises the official city flag at City Hall Plaza in preparation for the city's 60th anniversary party at Drake Field March 9. Photo/Submitted.
---
The evening will provide a snapshot of the planned city's humble beginnings, a look at how far we've come to the city we are today, and fuel our momentum for the next 60 years. Food? Of course, hors d'oeuvres.
Tickets are $10 per person (check https://www.facebook.com/PeachtreeCityGA.gov/ for updated RSVP information later this week).
And then on Saturday, March 9, join your neighbors and celebrate Peachtree City's 60th anniversary of its founding at Drake Field, next to City Hall.
Live music, food trucks, a kiddie Ferris wheel, train, paddle boats, extreme bungee and more activities for the kids. and more will be part of the festivities on Saturday, from 2 – 6 p.m., at Drake Field.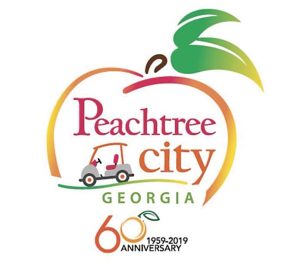 After the sun goes down at 7 p.m., a family-friendly movie, "The Greatest Showman" (rated PG) will be shown on an outdoor screen. This event is free and open to the public. Most activities are free as well.