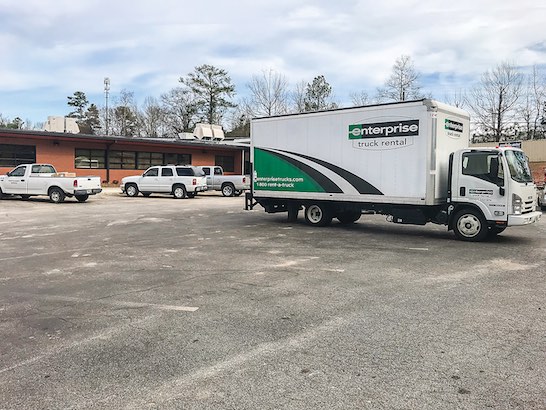 Once the county's only high school, complex now is school system's new headquarters — 
The move by the Fayette County School System's central office to its new home at the Lafayette Education Center (LEC) two blocks away is complete. Renovations to portions of the LEC will centralize many of the school system administrative offices.
The school system has occupied the LEC complex, formerly Fayette County High School, for 40 years and the complex will now become the new headquarters of the school system.
"It will be good to have central office under one roof," school system Facilities Director Mike Satterfield said previously, noting that a number of other school system offices have long been at the LEC location.
Located on Stonewall Avenue two blocks from downtown Fayetteville, the one-story central office building has housed portions of the school system administration for the past few decades. The facility is also the meeting place of the Fayette County Board of Education.
With the finishing touches at LEC underway, A Building will house central office departments such as human resources, finance, the superintendent and assistant superintendents, purchasing and public information. Joining the other offices in A Building will be departments such as nutrition and the after-school program.
A Building will be the location where the Fayette County Board of Education meets.
B Building will also house a wealth of departments, such as enrollment, student services and social work, curriculum coordinators, health services professional learning labs, exceptional children, pre-K evaluation, and safety, discipline and athletics.
The $3.1 million sale to the city earlier this year of the school system's 10-acre central office, transportation headquarters and bus storage facility on Stonewall Avenue will help offset the $8.85 million cost of the various changes to the LEC.
The project cost included the complete renovation and covered all expenses affiliated with the reconstruction, new equipment and the move of the various offices, Assistant Superintendent of Operations Mike Sanders said previously, adding that much of the furniture will move from current locations into the new offices.
The current building on Stonewall Avenue will be demolished in the spring to make way for the construction of the new Fayetteville City Hall and the large park and greenspace to its rear.