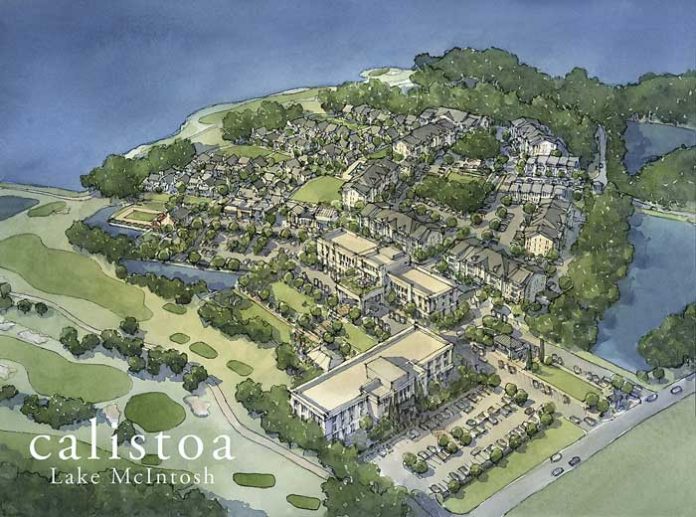 Plans for Calistoa Lake McIntosh show a mixed-use development situated on 37 acres adjacent to Lake McIntosh and the Planterra Golf Club. Rendering/Pace Lynch.
Peachtree City developer Pace Lynch at an upcoming meeting of the Peachtree City Council will ask to have the apartment moratorium lifted for a 37-acre tract adjacent to Lake McIntosh and Planterra Golf Club that would pave the way for Calistoa Lake McIntosh, a mixed-use development that will set a new quality design and planning standard for Peachtree City.
The first step of the proposed development of the 37-acre Calistoa Lake McIntosh came on Feb. 21 when North Carolina-based Crescent Communities and Pace Lynch submitted an initial site plan and a request to the Peachtree City Council to lift the ongoing development moratorium on apartment construction. Pace Lynch at an upcoming meeting is expected to make the request to have the moratorium lifted on the 37-acre property and to provide information on the proposed mixed-use development.
Pace Lynch Principal Jason Pace said the goal, once the project is underway, is to create a mixed-use destination that provides walkable access to retail, dining and nature, set against the unique backdrop of Lake McIntosh.
"Peachtree City is already an incredible place to live and work. As a local, we want to build upon the vision the founders had – a community of the future, by creating a true live-work-play destination in our town. We've worked carefully to identify a development partner that shares our passion for doing great work and are proud to confidently announce we've found that partner in Crescent Communities," said Pace.
Pace noted that under the existing zoning for the site, 12 acres along the south side of the site are expected to be preserved for future office development, providing a sought-after location for employers.
"Mixed-use environments offer employees more than just an office, it offers them a community. They can walk to restaurants, retail or even home," Pace said. "They can go outside and enjoy a greenspace or walking trail. These benefits of a mixed-use environment are why employers are interested in communities such as Calistoa Lake McIntosh and why we are currently in active discussions with several large corporate users seeking a new headquarters site."
Commenting on some of the expectations for the project, Pace said that in addition to offices, Calistoa Lake McIntosh will feature residential offerings that are inspired by the modern farmhouse, showcasing historically-rooted architecture with a modern flair.
"From apartments in five-story elevator buildings to cottages and village single-family homes with front porches for socializing with neighbors, Calistoa offers a mix of for-sale and rental housing for millennials, families and empty-nesters alike," Pace noted.
Pace said outside of the home and office, the Village Green, which was inspired by "The Hub" on Highway 30A in Fort Walton Beach, Fl., will feature restaurants, small shops and outdoor movies on a park with views of Lake McIntosh and Falcon Field.
Pace Lynch and Crescent Communities are currently in preliminary conversations with interested local restaurants and breweries.
Residents will also have the opportunity to take advantage of the Vista Terrace, a two-story amenity building, which will offer a coworking space, coffee bar serving Land of 1000 Hills Coffee (an Atlanta-based coffee company), saltwater pool, gym, yoga/stretch room, outdoor grills, communal fire pits and a pizza oven. Natural highlights include the panoramic vistas of Lake McIntosh, as well as neighborhood parks and greenspaces. Walking trails and paths link all parts of the master plan, creating a highly connected community, Pace explained.
"Our company mission is to 'Build Community and Better People's Lives.' We create communities for knowledge workers, millennials and baby boomers alike, and desire to serve the neighborhoods we work in. We are excited to partner with Pace Lynch and Peachtree City to create a walkable mixed-use village with employment, dining, housing and a gathering place for the neighborhood," said Kyle Brock, managing director at Crescent Communities.
Known as one of the safest cities in the nation and located approximately 30 miles from downtown Atlanta, Peachtree City is experiencing significant growth, including future expansion of Falcon Field. Through the planning and development of Calistoa Lake McIntosh, Pace Lynch and Crescent Communities are actively working with Falcon Field to make sure the project supports the current and future needs of the airport, understanding the importance of Falcon Field to the Peachtree City community, Pace noted.
Commenting on the Calistoa proposal, Peachtree City Airport Authority Chairman Tom Fulton said, "We are pleased to see that the development team shares our desire to develop areas nearby the airport in a manner consistent with FAA guidelines and appreciate their willingness to work collaboratively with the airport."
"Following the approval of this initial step, Crescent Communities and Pace Lynch looks forward to working collaboratively with City Council, Falcon Field and the community of Peachtree City to attract local businesses and employers to Calistoa, creating a destination and gathering place for everyone in the community. The goal is to break ground on Calistoa by winter 2019," said Pace.
Crescent Communities is a nationally recognized, market-leading real estate investor, developer and operator of multifamily, commercial and mixed use communities with 20 multifamily communities currently under construction or in operation across the US. Crescent creates high-quality, differentiated communities in desirable locations in many of the fastest growing markets in the Southeast and Southwest. Since the company was founded in 1963, Crescent's development portfolio has included more than 60 single family master-planned communities, 43 multifamily communities and nearly 21 million square feet of commercial space. Its multifamily communities are branded NOVEL by Crescent Communities. For more information, visit www.crescentcommunities.com.
Founded by principals Bill Lynch and Jason Pace, Pace Lynch provides best-in-class real estate development and commercial real estate services. Located in South Metro Atlanta, Pace Lynch is a boutique real estate firm with more than 80 years of team experience and a deep devotion to creating remarkable real estate solutions and leading-edge project vision. Pace Lynch is also the developer of the 60,000 sq. ft. Piedmont Wellness Center, underway at Pinewood Forest, opening late 2019, and the recently announced 52,000 sq. ft. Mixed Use building and 8-screen luxury movie theater planned at Pinewood Forest. For more information, visit www.pacelynch.com