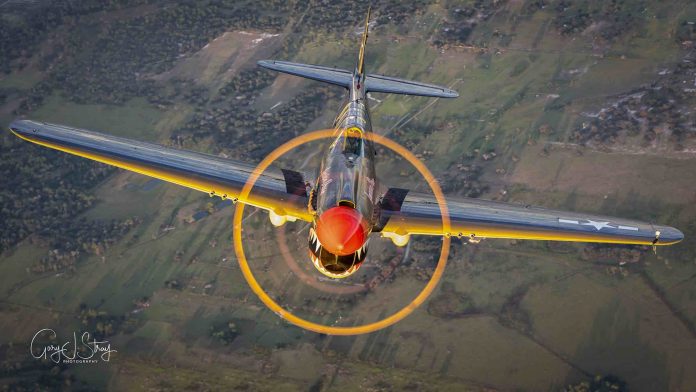 Will offer training flights to the public — 
A rare 1940s P-40N Warhawk fighter plane will arrive in Peachtree City, Ga., for instructional flights Feb. 9-11 at the Commemorative Air Force (CAF) Dixie Wing Warbird Museum at Atlanta Regional Airport- Falcon Field.
The Curtiss P-40N Warhawk, owned and operated by Warbird Adventures in Kissimmee, Fla., is fully configured for dual-seat, dual-control, much like the original, factory-produced TP-40Ns.
Experienced pilot Thom Richard will offer instructional flights from noon to 5:30 p.m. Saturday, Feb. 9, and 10 a.m. to 5:30 p.m. Sunday and Monday, Feb. 10 and 11.
To book a flight for this once-in-a-lifetime experience, call 407-870-7366 or email Fly@WarbirdAdventures.com. Rates vary based on length of flight, beginning at $990. This aircraft is based upon the remains of P-40N 42-104977, a WWII combat veteran which then-1st Lt. Joel Dixon Thorvaldson flew over New Guinea with the 8th Fighter Squadron's Blacksheep in the 49th Fighter Group, 5th Air Force.
P-40s are rare enough, but original TP-40s are even more rare. Of the handful of currently airworthy, dual-control P-40s, Warbird Adventure's is the only one offering dual instruction on a commercial basis to the general public.
The aircraft is based at the Kissimmee Gateway Airport (KISM). Warbird Adventures is known worldwide for first-class T-6 training they have offered for more than 20 years. They also house the Kissimmee Air Museum, which has a constantly changing collection of various aircraft and aviation-related exhibits. The facility is open to the public Monday through Saturday.
About the CAF Dixie Wing Warbird Museum
The CAF Dixie Wing, based in Peachtree City, Ga., was founded in 1987. One of largest units of the Commemorative Air Force, the unit maintains and flies seven WWII aircraft including a P-51 Mustang, FG-1D Corsair and rare types such as the SBD Dauntless dive bomber and P-63A Kingcobra. The unit, composed of 300 volunteers, is a non-profit, tax-exempt organization. http://www.dixiewing.org/.