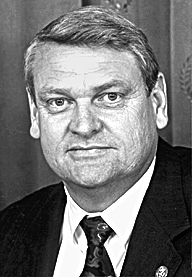 Michael Allen "Mac" Collins Sr., former Congressman, Georgia State Senator, Butts County Commissioner and Chairman, businessman, loving husband and father, passed away on Tuesday, November 20, 2018 at the age of 74.
Mac was born on October 15, 1944 to Henry Roosevelt Collins and Bessie Britt Collins, Flovilla, GA. Following High School graduation, Mac married his childhood sweetheart, Julie Watkins. Together, they raised four children and built Collins Trucking in Jackson, GA, a thriving business that continues today. He was a former member of the Georgia Army National Guard, Indian Springs Masonic Lodge #307 and Scottish Rite Freemasonry, Macon, GA.
While guiding and growing the company fulfilled his entrepreneurial spirit, Mac nurtured a deeper desire to serve his community, state and nation. That desire came naturally as Mac's role model was his mother, the first woman to serve on the Flovilla City Council.
His path to elected office was not without challenges. He began his political career as a Democrat and ran for the Butts County Commission twice before being elected on his third try in 1976. Mac switched parties in 1981 and became the County's first GOP Chairman.
In 1984, he ran for the Georgia State Senate. He lost that contest and again in 1986 before winning a seat in the Georgia Senate Chamber in 1988. Mac was one of only 11 Republicans in the State Senate at that time. He has been considered as one of the architects in helping build the Georgia Republican Party into the dominant force it is today.
In 1992, he made a successful bid for Congress, winning the first of six terms in the U.S House of Representatives. Two years later, Mac won a coveted seat on the House Ways and Means Committee charged with jurisdiction over half of all legislation in the House including, taxes, trade, Medicare and Social Security.
Mac was named a Deputy Majority Whip and helped secure votes for legislation pending before the House. He also helped pass key components of the Contract with America and was later selected to serve on the U.S. House Permanent Select Committee on Intelligence, the primary committee charged with the oversight of the United States Intelligence Community.
In 1994, he ran for the U.S. Senate. When the bid fell short Mac returned to Georgia to devote time to his family and farm outside Jackson. In 2014, Governor Nathan Deal appointed Mac to the State Board of Corrections.
Mac was a devout Christian and cherished his faith. That faith brought him joy and sustained him during challenging times. While his family and friends will miss his smile, his laugh, his sense of humor and love of life they know he has gone home to be with our Lord.
They mourn his passing but also celebrate a life well lived by an honorable man.
Mac is survived by his wife of 52 years, Julie. Their children, Crystal Collins, Mike Collins (Leigh Ann), Andy Collins (Sherri) and April Collins Hoekwater (Wes). 12 grandchildren, Tiffany Collins-Kingston and Savannah Collins-Reid, Dylan Collins (Morgan), Dakota Collins (Katie) and Summer Collins, Brittany Cochran (Drayton), Drew Collins and Meg Collins, Julianna Hoekwater, Cade Hoekwater, Tyler Hoekwater and Claire Hoekwater. 3 great- grandchildren, Remington Cochran, Tess Cochran and Denver Mac Collins. Sisters-in-law, Lynn Collins and Janis Collins and nieces and nephews.
Funeral servics for Michael Allen "Mac" Collins, Sr. will be held on Sunday, November 25, 2018 at 3 p.m. at Rock Springs Church, Milner, GA. Dr. Phil DeMore and Dr. Benny Tate will officiate with the interment in the Jackson City Cemetery. The family will receive friends at Rock Springs Church from 1-3 p.m.
In lieu of flowers, donations may be made to the Shriners Hospitals for Children, Attn: Office of Development, 2900 N. Rocky Point Dr., Tampa, FL 33607 or National Law Enforcement Officers Memorial Fund, Attn: Supporter Services, 901 E Street, NW, Suite 100 Washington, DC 20004-2025.
Haisten Funeral Home of Jackson is handling the arrangements for the Collins family.