The Peachtree City Council gave a unanimous no to a proposal for condos on TDK Boulevard.
The 5.1-acre lakefront property, essentially forming a peninsula, off TDK Boulevard is adjacent to and southwest of the Planterra golf course, west of Falcon Field and surrounded on three sides by Lake McIntosh Park. The site would be accessed by TDK Boulevard.
Currently zoned GI (general industrial), Chadwick Homes plans requested the construction of 25 condominiums with a point price of approximately $500,000. Chadwick was seeking a limited use residential zoning change.
Chadwick representative Jerry Peterson told the Planning Commission at an earlier meeting that the property is "a left over piece of land" that is isolated, with open space around it.
"There is no comparable site like this in Peachtree City. There's a lot of interest in this," Peterson said.
But the City Council was not persuaded.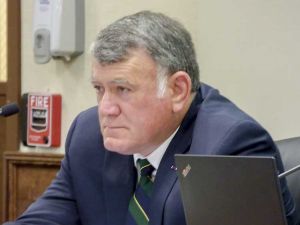 Councilman Mike King's focus was on safety. If the land was rezoned to residential, King feared a child could be hurt in case there was a plane accident from Falcon Field.
Councilman Kevin Madden, in lengthy remarks, said he did not want to do anything residential near the area.
"The airport is a jewel to our area and good for business recruitment," he added.