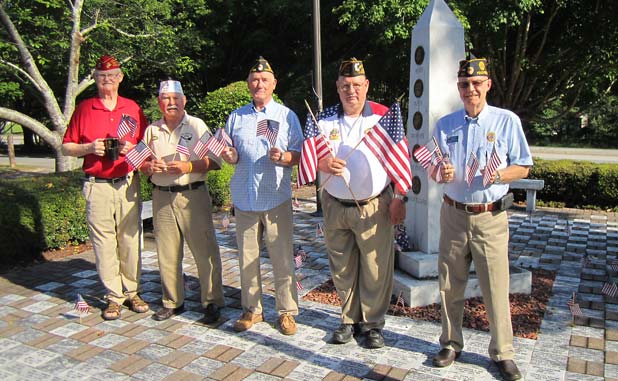 Fayette County has a series of events scheduled to honor our veterans.
Please join Spring Hill Elementary for "Veterans Day Celebration" Nov. 9. We will honor veterans from all branches of the United States Armed Forces: Army, Marine Corps, Navy, Air Force, and Coast Guard.
Please meet at 8 a.m. in the Cafe for a special Veterans Day breakfast. Immediately following the breakfast, the school will pay tribute to veterans with a special program that will be put on by the children of Spring Hill Elementary.
To help instill patriotism in our young students, we would like to invite the veterans to visit a classroom for a short question and answer period with students. Please call Spring Hill Elementary @ 770-460-3432 or visit our website www.springhillsuns.org to RSVP.
It's that time again where we celebrate our veterans and their families! Saturday Nov. 10, The Eden Project, in partnership with the city of Fayetteville and many other wonderful organizations, bring Aaron Shust, Builders None, and Mark Gelhardt Sr. to the Southern Ground Amphitheater to honor the sacrifice and service of military men and women.  There will be family fun activities, local craft vendors and an entire section dedicated to our local service organizations. The theme this year is service, so we have many of the local service organizations who focus on serving our community. We will also have a menu of hotdogs, hamburgers, brats, tortilla wraps and of course… BBQ!
All activities begin about 11 am, right after the VFW sponsored parade. For more information, go to www.eden-project.com or to buy tickets directly, go to http://www.tepbbb2018.eventbrite.com/.  Veteran's admission is free!
The Eden Project's main focus is reintegration. By Engaging, Encouraging and Empowering veterans through their unique peer to peer programs and couples' programs, The Eden project provides tools to help veterans and their families reunite and rebuild strong relationships.
The ninth annual Fayetteville  program is from 2-3 p.m. Nov. 11 at the American Legion Log Cabin in Fayetteville.
Recognition of veterans, along with music highlight the celebration. For more information, contact Lewis or Linda Armstrong at 770-892-1024.