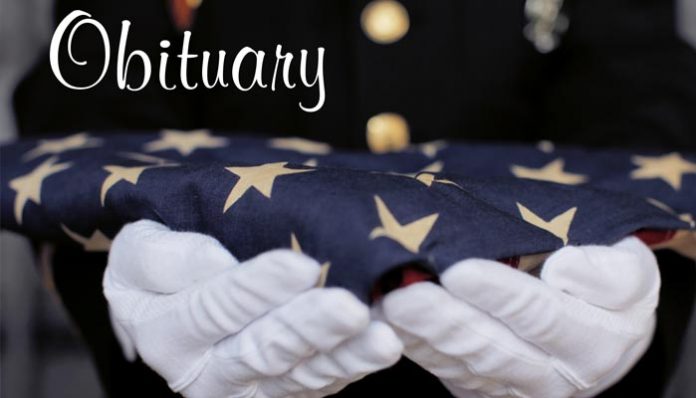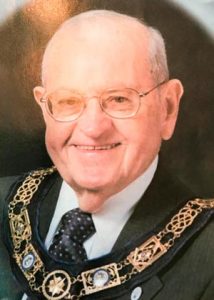 Clarence (Buster) Ernest  Horne of McDonough, Ga., age 93, was born on May 3, 1925 and died on October 5, 2018. He was born and raised in Phenix City, Ala. where he attended Central High School. He was a veteran of World War II in which he served in the U.S. Navy.
After marrying his high school sweetheart on November 3, 1946, the Horne's moved to Atlanta in 1948, where he began a 45 year career with Ruralist Press, later a subsidiary of AT&T, retiring as vice president in 1990.
Mr. Horne was a Mason for 65 years, having been raised in East Point Lodge No. 288 in 1953. He served East Point Lodge as Worshipful Master in 1963, and then served as secretary for over 50 years. His illustrious Masonic career included the following: 5th Masonic District Convention "Past Master of the Year Award" Trustee Masonic Children's Home;  GRAND MASTER OF MASONS IN GEORGIA  2002; Chairman Grand Lodge Charters and By-laws Committee; Youth Council; Chairman Endowment Fund and Publications Committee; Grand Chaplin; Scottish Rite 33rd Degree; personal representative to three Sovereign Grand Inspector Generals in Valley of Atlanta; Trustee Scottish Rite Foundation; Knights Templar Grand Commander 2000; Red Cross of Constantine; Director Atlanta Masonic Center; Shrine; Royal Order of Jesters. He served on the Board of Trustees of Children's Healthcare of Atlanta Foundation (formerly Scottish Rite Hospital).
Mr. Horne was predeceased by his parents, William Clarence and Lucy Mae Jones Horne and his beloved wife of 66 years Anita Ruth Strickland Horne, who passed away on January 23, 2013.
He is survived by his son Richard "Skip" Horne (Jackie); his daughter Kathy Colwell; his grandchildren Matthew Horne (Elizabeth), Elizabeth Snyder (Nick), Ross Colwell (Paula), Christine Hamilton (Mark); and nine great-grandchildren.
Funeral services will be held at Fayetteville First United Methodist Church on Sunday, October 14, 2018 at 3 p.m., with Rev. Teresa Tilja and Rev. Michelle Rawdin Strall officiating. The family will receive friends at the church beginning at 1 p.m. prior to the service. Burial will follow the service at Mt. Carmel United Methodist Church, McDonough, Ga.
In lieu of flowers, memorials may be sent to the Masonic Children's Home of Georgia at P.O. Box 4183, Macon, Ga. 31208.
Carl J. Mowell & Son Funeral Home, Fayetteville – www.mowellfuneralhome.com