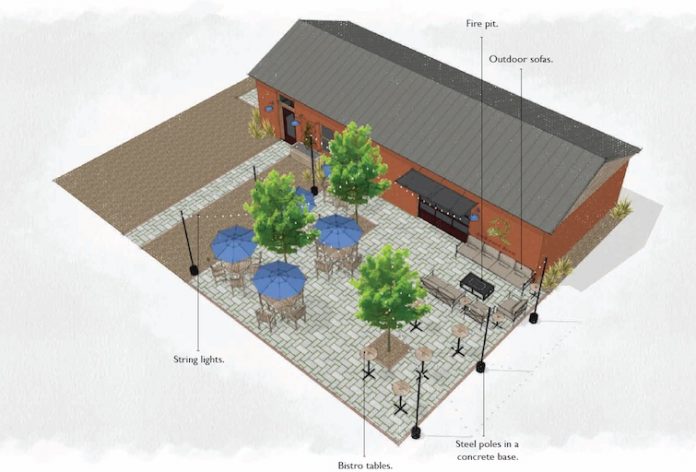 Also on Sept. 27 agenda: Awkward Brewery plan across from City Hall
Update – Sept. 27, 11:28 a.m.: The agenda item dealing with the proposed apartments on Ga. Highway 54 West will be tabled (postponed) at the Sept. 27 meeting of the Fayetteville City Council. That means that no vote on the project itself will be taken until a later meeting.
Original story: The Sept. 27 meeting of the Fayetteville City Council will include a proposal to establish a microbrewery on Lee Street near City Hall and another to establish apartments and office space along Ga. Highway 54 West across from Piedmont Fayette Hospital.
Property owners Andrew and Amanda Poliak are requesting that the residentially-zoned property at 240 and 250 Lee Street be rezoned to a city-designated downtown commercial category to accommodate the proposed microbrewery and tasting facility.
As for the proposal and its location, the city's Future Land Use Map calls for walkable mixed-use for the Lee Street area, with the character being one that is pedestrian-oriented.
When discussed at the Sept. 6 meeting as a non-voting item, the microbrewery was met with mixed reaction from the council.
Also at the Sept. 27 meeting, council members will hear a proposal to construct 240 apartments and 12,000 sq. ft. of office space on Ga. Highway 54 near Piedmont Fayette Hospital.
The property is situated on 31.55 acres across Hwy. 54 from the hospital and west of the Dogwood Forest assisted living facility.
Solis Fayetteville, a project of Terwilliger Pappas Multifamily Partners, is proposing to construct a 12,000 sq. ft. office building on 1.73 acres along Hwy. 54 and 3- and 4-story garden-style apartments in nine buildings on 29.82 acres off the highway.
The property is currently zoned R-70 (single-family residential. Solis Fayetteville is requesting OI (office institutional) and RMF-15 (residential multi-family).
The property on the east side, where Togwatee Village is located, would include a 300-foot undisturbed buffer.