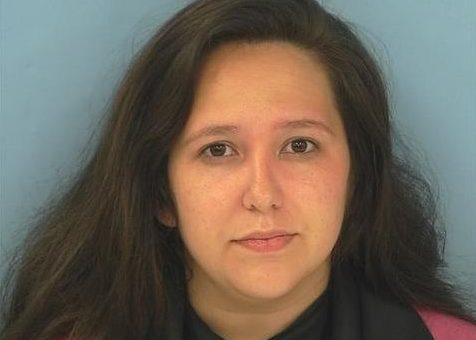 Elaina Marie Montelongo. Photo/Fayette County Jail.
A Newnan woman has been charged with felony hit and run in the Sept. 13 death of 17-year-old Peachtree City resident Christopher Jordan Babilonia, who was found at approximately 11:30 p.m. in the southbound lanes of Ga. Highway 74 South near the intersection of Paschall Road.
Peachtree City police investigators on Sept. 17 arrested Elaina Marie Montelongo, 24, of Dixon Street in Newnan, on a charge of Hit and Run (a felony) in the case of the pedestrian fatality that occurred on Hwy. 74 on September 13, said department spokesperson Odilia Bergh.
Montelongo was also charged with felony theft by conversion. Bergh said someone had loaned Montelongo the vehicle she was driving but she did not return it.
Montelongo appeared before the Fayette County Magistrate Court and was denied bond.
"The investigation was greatly aided by the help and support of the community and the officers whom have been working tirelessly," said Bergh. "This investigation remains open and additional charges may be pending."
Bergh said the vehicle Montelongo was driving belonged to a friend.
Babilonia was found severely injured along the roadway of Ga. Highway 74 South just before 11:30 p.m. on Sept. 13. He was pronounced deceased a short time later, said Peachtree City Police Department spokesperson Odilia Bergh.
Bergh said it is believed that Babilonia was initially involved in a golf cart accident near the entrance to the path tunnel on the east side of Hwy. 74 adjacent to Willow Road. The golf cart was found in the underbrush off the north side of the cart path.
Investigators believe Babilonia sustained injuries when the cart struck the tunnel's retaining wall, Bergh said.
"We don't know how he ended up in (a southbound lane) of the highway," Bergh said. "His injuries were consistent with being hit by a vehicle."
Bergh said officers at 11:23 p.m. received a call about a person in the roadway. Officers arrived one minute later, finding Babilonia lying in the roadway, with injuries consistent with having been struck by a vehicle.
Babilonia had suffered massive trauma, showing minor signs of life, and was transported to Piedmont Fayette Hospital where he was pronounced deceased shortly thereafter, Bergh said.
Investigators interviewed the motorist who called in the report.
The tunnel crosses under Hwy. 74 just north of the intersection with Paschall Road/Willow Road. A Peachtree City fire station is situated one block from where the path connects to the tunnel on the west side of the highway.
Christopher Babilonia was born on Dec. 24, 2000 in Queens, New York. He attended Huddleston Elementary, then attended J.C. Booth and lastly was attending McIntosh High School, according to the family.
A memorial mass will be held Saturday, Sept. 22 at 10:30 a.m. at Holy Trinity Catholic Church in Peachtree City. The family will receive visitors on Friday, Sept. 21 from 4-8 p.m. at Carl J. Mowell & Son Funeral Home in Peachtree City.
An account in Christopher's name has been set up. For more information visit https://www.gofundme.com/christopher-jordan-babilonia