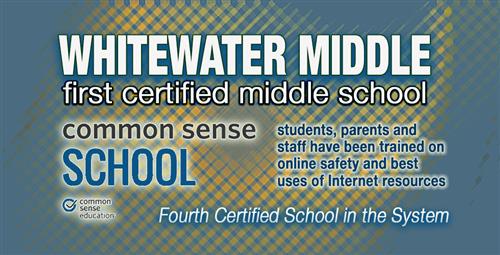 Having taken the necessary steps to highlight the importance of technology safety and responsibility and utilizing technology for interactive learning, Whitewater Middle School has been recognized as a Common Sense Certified School in Digital Citizenship for 2018-2019 by Common Sense Media.
Whitewater is the first middle school in the Fayette County Public School system to receive the Common Sense certification. Common Sense Media is a national non-profit organization dedicated to helping children and families make smart media choices and empower students to harness technology for learning and life.
Students at the middle school have engaged in lessons that teach digital safety and responsibility, including information literacy, privacy, security and effective communication.
Common Sense Media also recognized the way in which teachers and students at Whitewater Middle use technology for learning where technology integration is a part of the daily academic experience for students.
Whitewater Middle joins Fayetteville Elementary, Sara Harp Minter Elementary, and Peeples Elementary as the fourth school in the school system to receive this certification in the 2017-2018 school year; Sara Harp Minter Elementary also received it in the 2015-2016 school year. Since then, the school has earned recertification twice.
The Common Sense certification is valid for one year. Schools and teachers must complete all of the actions required for certification each year, and then recertify by submitting an application.