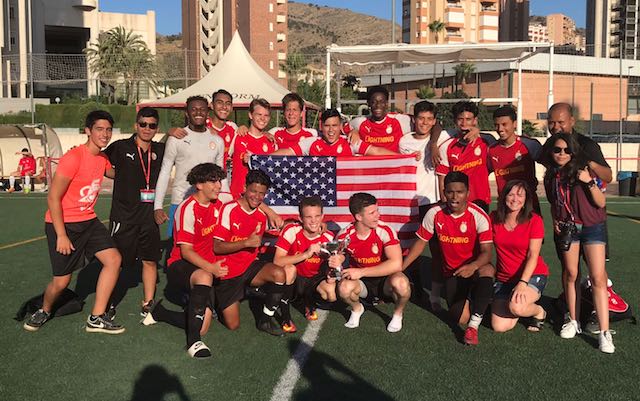 AFC Lightning Soccer Club's 99/00 team returned home recently after participating in two soccer tournaments: the Torneo Internacional La Amistad in Madrid and the Costa Blanca Cup in Benidorm, Spain. Coach Robert Arteaga planned a full agenda of tournaments, trainings, and tours.
"Both tournaments were a soccer player's dream — excellent facilities, superb fields, steep competition and enthusiastic fans," according to a team spokesperson.
In Madrid, the tournament venue was in Real Madrid City, the new training facilities for the famous Real Madrid soccer team. This sports complex has put Real Madrid at the forefront of world training facilities and there is nowhere else quite like it. There are 10 grass and artificial turf football pitches surrounded by stands with a capacity for more than 11,000 spectators.
Facing the strongest youth teams in Spain, AFC performed well. The U18 division had 16 teams in four groups with the first two teams from each group advancing to the quarterfinals. AFC won their group and advanced to the quarterfinals.
The competition was intense in the next tournament. The Costa Blanca Cup hosts more than 250 teams from 20 countries. The U18 division had 16 teams, 4 groups. However, this tournament had 2 levels of finals. The first two teams from each group advance to the playoffs. And the last two teams advance to the second tier playoff so that all teams played in a quarterfinal. All teams from the AFC group advanced through quarter and semi finals. AFC lighting defeated Ultimate Madrid with a header by Jose Rodriguez in the finals of the second tier.  AFC Lightning brought the championship cup home as winners as of Playoff B.
This tournament was held on the coast, with mountains and sea within view from the pitch.