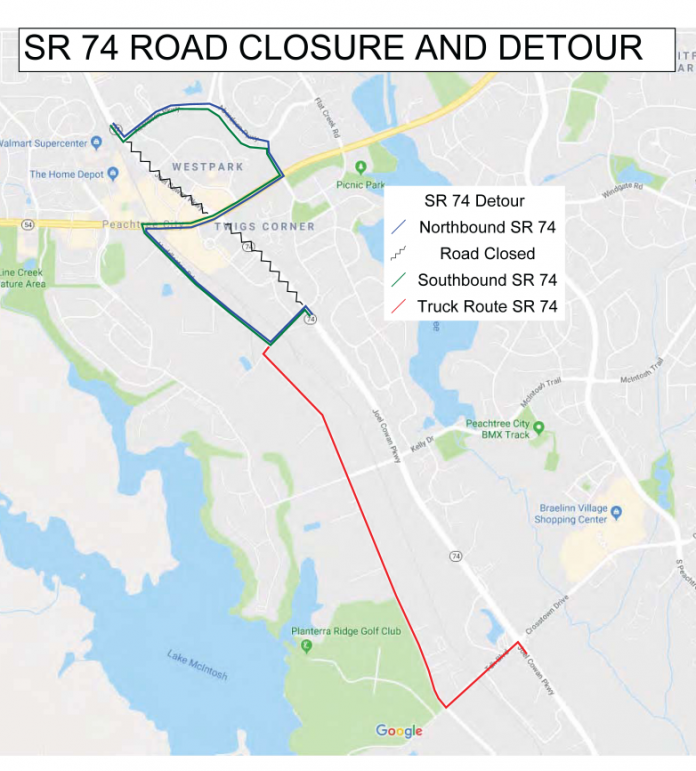 This map shows the detour routes to be in place next week when paving crews work on Ga. Highway 74 on the north and south sides of Ga. Highway 54 in Peachtree City. Photo/Peachtree City.
Motorists travelling Ga. Highway 54 between Fayetteville and Peachtree City beginning July 12 and ending July 16 should expect paving delays. And coming next week, the intersection of Ga. highways 54 and 74 in Peachtree City during nighttime hours will be closed and traffic rerouted.
The Ga. Department of Transportation (DOT) has notified the city that contractor E.R. Snell will be working all weekend (day and night) on the remaining westbound lane of Hwy. 54 between Fayetteville and Peachtree City. Work is moving toward Peachtree City from Fayetteville, and the right westbound lane will be closed while work is underway.
Work will begin Thursday, July 12 at approximately 7 p.m. and continue straight through until 6 a.m. on Monday, July 16.
Then beginning next week with dates not yet certain, and when road crews reach the Highway 54/74 intersection, Hwy. 74 will be closed at night from Aberdeen Drive to Paschall Road/Willow Road.
Hwy. 74 Traffic will detour from Aberdeen Drive to Northlake Drive, along Hwy. 54 through the 54/74 intersection, and then down Huddleston Road to Paschall Road.