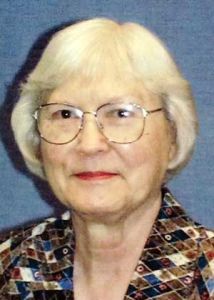 Marian Wright Goldsmith passed away August 25, 2017. She was born in Tampa, Fla. on October 17, 1931 to Newell Nathaniel & Dorothy Briggs Wright. Marian was a native of Tampa, living in Hillsborough County for 80 years. She graduated from Maryville High School in Maryville, Tenn., having moved there for her senior year. She went on to attend the University of Tennessee, graduating with a Bachelor of Science in Home Economics. Marian taught Home Economics for 25 years for the School Board of Hillsborough County and several years for Tampa Catholic High School.
She was a loving, caring Christian who was a friend to all she met. She was a wonderful mother. One of her favorite titles was "Family Genealogist." Marian attended First United Methodist Church where she was a member of the United Methodist Women. After retirement, she was a member of Trinity Baptist Church of Sun City Center, Fla. and the Gideons' Ladies Auxiliary.
Marian was preceded in death by her husband, Dean Goldsmith; daughter, Suanne Goldsmith Arbeeny; son-in-law, Dirk Arbeeny; brothers, Charles Wright and Lester Wright; and her parents.
She is survived by her daughter, Jolynn Goldsmith Stevens, whose husband John passed away May, 2018; grandchildren, Jason Dean Stevens, Amyruth Stevens Blade, and Kashi Arbeeny; and great-grandchild, Bradley Dean Stevens.
An inurnment service will be held at Florida National Cemetery in Bushnell, Fla. with close family.
Carl J. Mowell & Son Funeral Home, Fayetteville – www.mowellfuneralhome.com