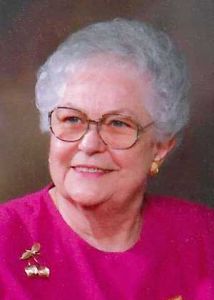 Margaret Hayes Dickson, 93, of Weaverville, N.C. passed away peacefully on June 30, 2018.
Margaret was the daughter of the late Edward and Clara Hayes of Brazil, Ind.   She was preceded in death by her seven siblings and her husband of 50 years, Kenneth Dickson.
Margaret and Ken were high school sweethearts at Staunton High School in Brazil, Ind.  They married in 1945 and moved to Hapeville, Ga. when Ken returned from his service in World War II in the Army Air Corps.
Ken began his 37-year career at Delta Air Lines and Margaret taught kindergarten at Hapeville First Baptist Church with her dear friend Margaret Pharr. She kept pictures of every student in each class along with notes of their marriages, births of their children, etc.  She also worked with the PTA, Girl Scouts, etc., during her girls' school years.   
In later years, Margaret was active at Harp's Crossing Baptist Church and in her community in Fayetteville, Ga.  She read books to the vision-impaired in nursing homes, she was a reader to young children at local schools and delivered meals to those in need.
Margaret and Ken were loyal fans of the Atlanta Braves.  They watched all televised games and attended many games.  They were well traveled and often related stories about their trips.  She enjoyed cross-stitch and was an avid fan of jigsaw and crossword puzzles.
Margaret was a very happy person who will be missed by all. She will always be remembered for her strong faith, contagious smile and positive attitude.
Margaret is survived by her daughters:  Peggy Woodcock (John) and Beckie Dickson, all of Weaverville.
The funeral will be on July 5, 2018 at 11 a.m. at Harp's Crossing Baptist Church in Fayetteville, Ga., with Pastor Dennis Watson officiating.  The family will receive friends at 10 a.m. at the church prior to the service. Burial will follow the service at Westview Cemetery.
In lieu of flowers the family requests memorial donations be made to Harp's Crossing Baptist Church, 1183 Highway 92, Fayetteville, Ga. 30215. A guest register is available online at www.mowellfuneralhome.com.
Carl J. Mowell & Son Funeral Home, Fayetteville – www.mowellfuneralhome.com.