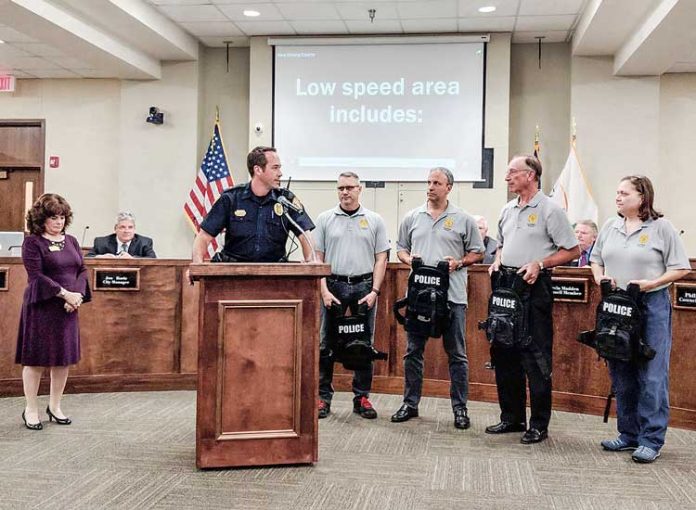 The Peachtree City Auxiliary Police Force recently donated 28 fully-outfitted active shooter vests to the police department. For the 14-member auxiliary force, the donation was just one of many that provide a wealth of support to officers on the street.
---
Above, the Peachtree City Auxiliary Police Force recently presented officers with active shooter vests. Pictured, from left, at the presentation were Mayor Vanessa Fleisch, Lt. Brad Williams, auxiliary Capt. John McDonald, auxiliary officers Joe Radest and Fred Dunkelberger and auxiliary Lt. Arline Cuebas. Photo/Submitted.
---
"These are very generous people with their time and efforts," said Lt. Brad Williams. "They are the salt of the earth."
The most recent donation coming from the auxiliary force, and at a cost of $11,000, was 28 active shooter vests that officers responding to high-risk situations can throw on over their uniforms, Williams said.
Unlike the vest routinely worn by officers, the active shooter vests are outfitted with metal plates that can withstand most rifle rounds, Williams noted, adding that the vests came complete with items such as medical kits. The capability for officers involved in an active shooter scenario to provide initial medical care prior to the arrival of paramedics is quite important, said Williams.
The department already had 10 active shooter vests which officers shared. The new donation helps tremendously, said Williams.
The new vests are just one of the numerous donations and services provided through the work of the all-volunteer auxiliary police force.
Williams said auxiliary officers work behind the scenes in a variety of situations, such as providing a presence at the Night Market, with road races, helping patrol cart paths and providing assistance during traffic accidents, setting up the July 4 activities and a host of other events throughout the year.
It is at functions where vendors are on-site that auxiliary officers provide a presence. That presence, paid by vendors, has the money received going into an account that provides funding for things like the active shooter vests, Williams explained.
Another donation took the form of cones for the city's driving course at Falcon Field, which is used for training purposes by police, fire and public works staff.
For more information on the Peachtree City Auxiliary Police Force, the work they do and ways to donate visit http://peachtree-city.org/index.aspx?NID=463.