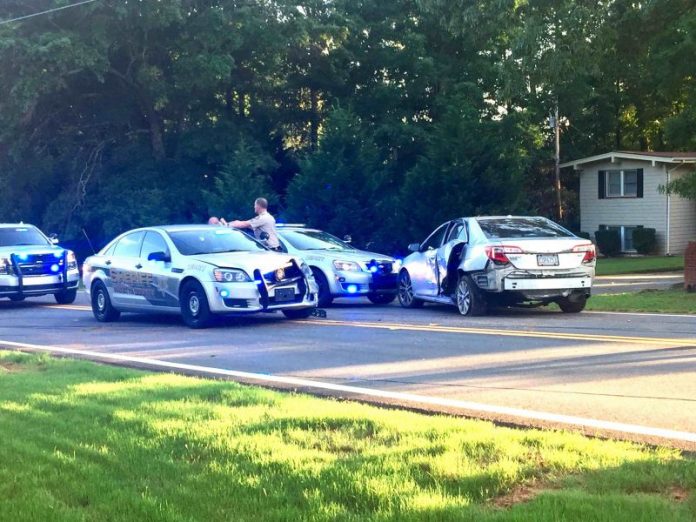 Jonesboro resident Antonio Seay was taken into custody on June 2 after fleeing deputies and causing traffic accidents. Photo/Steve Stanley.
A Jonesboro man is facing multiple charges after fleeing deputies on Ga. Highway 92 North on June 2 and striking vehicles before he could be taken into custody.
Antonio B. Seay, 28, was charged with simple battery, fleeing and eluding, obedience to traffic control device, driving on wrong side of road, failure to maintain lane, reckless driving, stop sign violation, revoked or suspended license, passing in a no passing zone, driving thru median or gore, improper right turn and DUI alcohol, according to Fayette County Jail records.
Sheriff Barry Babb said the series of incidents began when deputies were called to the BP station on Ga. Highway north of Fayetteville, pertaining to a physical disturbance in which Seay was said to have engaged in a fight with a woman in the store and in the parking lot. Seay was said to have punched the woman in the face, Babb said, adding that the two apparently knew each other.
Seay left the area before deputies could arrive, travelling southbound on Hwy. 85 into Fayetteville, said Babb.
Deputies located Seay's Toyota Camry near the Fayette Pavilion and attempted a traffic stop. Seay fled the area and turned onto Hwy. 92 heading north, Babb said.
Seay continued driving north, passing vehicles in no-passing zones, running one of them in the grass, said Babb. Seay then cross the double-yellow line, lost control of the vehicle and fishtailed into the oncoming lane.
Seay's vehicle grazed a motorcycle travelling southbound near Stanley Road, injuring the driver's leg but not causing the motorcycle to crash, Babb said.
Seay's vehicle began to spin sideways, with the rear of his Camry striking the driver's side rear wheel of a Kia that was travelling northbound. Babb said the Kia spun out of control just north of Northern Oaks Drive. The deputy following Seay approached the accident, striking the rear quater-panel of Seay's vehicle that had already come to a stop.
The deputy slammed on the brakes but could not stop in time to avoid hitting Seay's vehicle, said Babb.
Babb on Monday said a review of the video from the deputy's vehicle clearly showed that at no point did the deputy initiate the pit manuever on Seay's vehicle.
Babb said a passenger in the Kia and the motorcycle driver were transported for medical care with non-life-threatening injuries.