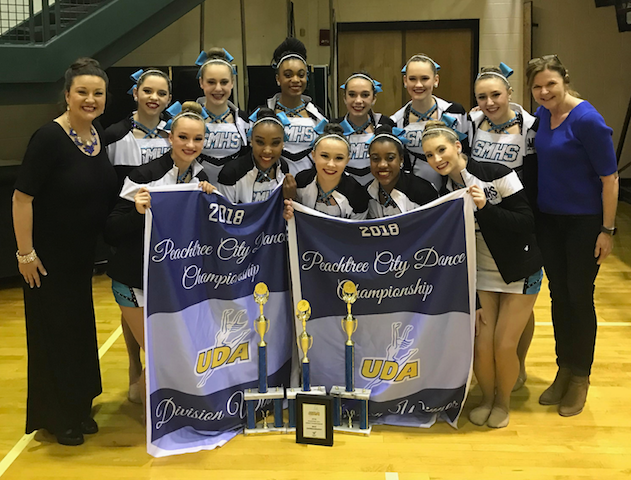 The Starr's Mill Pantherettes began conditioning June 1 alongside the football and cross country teams. They perform at most home football games while working to perfect their competition routines in Jazz and Pom. They perform competition routines at home basketball games.
This year they participated in five competitions, beginning in early December and finishing with the State Competition hosted by McIntosh Feb. 10. The Pantherettes took first in state in Small Varsity Jazz. One of their captains, Hanna Johnson, also took first in the Teen Solo Division. The team won "Best Choreography" for their Jazz performance which was created by choreographer Nichole Martin, and the Pantherettes took second in Small Varsity Jazz.
Early in February the Pantherettes competed in the National Dance Team Competition in Orlando, where they made semifinals in Small Varsity Pom.
"A successful year for sure! This team's perseverance and work ethic goes unmatched, and their humility and team spirit is admired." said coach Sandi Johnson.
"As the team's choreographer, I could not be more proud. These dancers left everything on the floor," said Nichole Martin.
Front Row, from left:  Riley Mitchell, Jordan DeLoney (co-captain), Hanna Johnson (co-captain), Samaiya Curwen, Gracen O'Neal.
Back Row, from left:  Nichole Martin (choreographer), Myla Reardon, Victoria Weist, Lydia Castilla, Rachel Tramonte, Isabelle Bowman, Regan Gainey, Sandi Johnson (coach). 
Photo/Submitted.