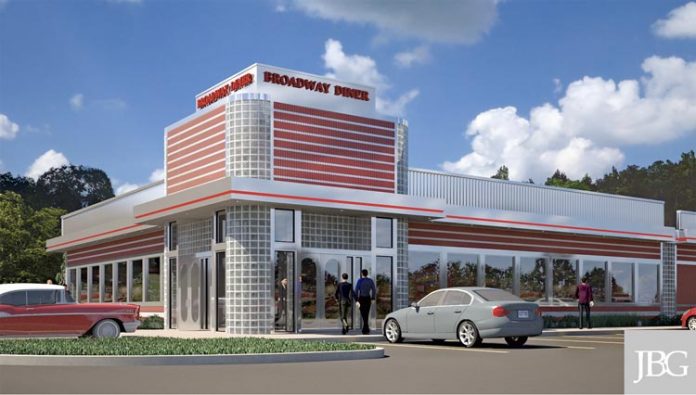 Development plans for the Broadway Diner's new location on Ga. Highway 54 West in Fayetteville were approved Jan. 23 by the Fayetteville Planning and Zoning Commission.
---
Above, the new location for the Broadway Diner is set for Ga. Highway 54 in Fayetteville just west of Grady Avenue. The restaurant is expected to open in early 2019. Graphic/Jefferson Browne Gresham Architects.
---
Broadway Diner owner Steve Theodorakis was at the meeting to ask that development plans be approved for the construction of a 7,477 sq. ft. building on 4.142 acres along Hwy. 54 just west of Grady Avenue.
"If the city will allow me, I won't disappoint," Theodorakis told commissioners.
Highlighted in red and white, the relocated Broadway Diner will provide the look of a classic American diner.
Though the design departs somewhat from building styles seen in or near the downtown area, City Director of Community Development Jahnee Prince said planning staff recommended approval, noting that historic American diner architecture is a valid architectural style.
Theodorakis after the meeting said he hopes to have the new diner open in early 2019.
The vote on the proposal was 3-0, with Commissioner John Reeves recusing himself.
Theodorakis will return for a called meeting where two minor variance items will be presented.