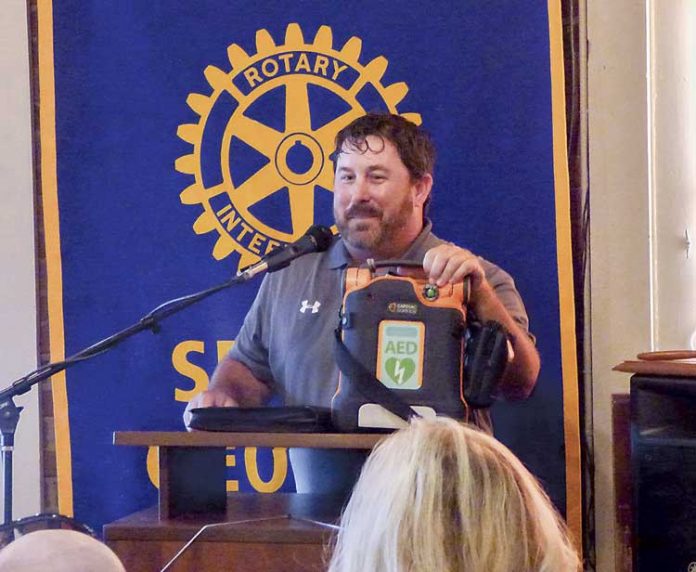 The Senoia Police Department recently was the recipient of four automated external defibrillators (AEDs) through the Rotary Club of Senoia.
---
Cardiac Science area manager Ryan Rose details the use of an automated external defibrillator at the Rotary Club of Senoia. Photo/Ben Nelms.
---
Cardiac Science area manager Ryan Rose attended the Rotary meeting to make the presentation.
Rotary member Jon Hughes said the club contacted Police Chief Jason Edens about finding a way to help the department. Rotarians thought some form of assistance might be needed, given the increasing numbers of residents and tourists flocking to the area.
Rotary representatives contacted Cardiac Services to learn more about having AED's available for police and, subsequently, applied for a Rotary grant earlier this year.
The grant was secured and the club purchases four AEDs and one training AED. One AED will be located in each shift supervisor's vehicle.
"This (AED) gives you the ability to save someone's life," Rose told Rotarians.
Edens at the meeting noted the many budget needs involved in keeping both officers and citizens safe.
"We're grateful and blessed to have these tools," Edens said. "And we're excited to have them."