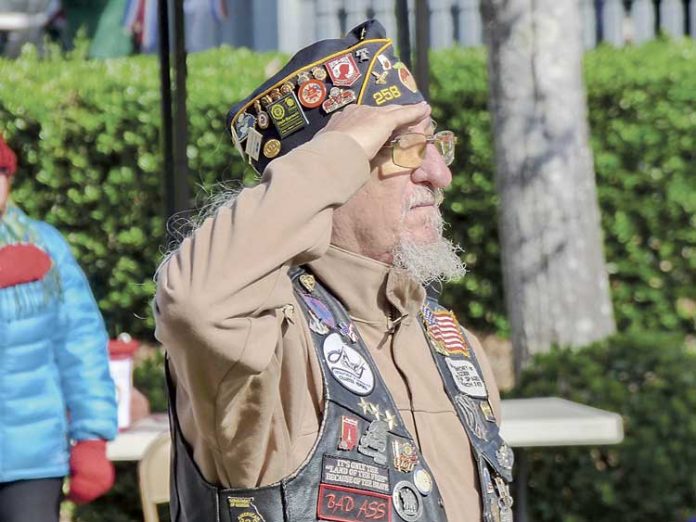 Veterans Day events filled the latter part of last week in Fayette County, with ceremonies at Georgia Military College (GMC) and in Tyrone and Fayetteville.
---
Above, an unidentified veteran salutes the flag during Veterans Day observances in Fayetteville. Photo/Ben Nelms.
---
The Nov. 9 Veterans Day Recognition Ceremony at the GMC campus in Fayetteville was the first of several events across the county.
Emceeing the event, Brig. Gen. (Ret.) "Rock" Donahue acknowledged the number of veterans and first responders in the audience, along with many students, city and county representatives and elected officials attending.
Donahue said that while the event was the third annual held at the Fayetteville campus, it was the first joint Veterans Day Recognition Ceremony held by the GMC campuses in Fayetteville, Fairburn and Stone Mountain.
Speaking at the ceremony was GMC student and veteran La 'Keica Osborne (right at podium), who spoke of the spirit of character and commitment incorporated in the life of a veteran, both during times of service and later in life.
Those comments included her perspective on the standards and pride incorporated into the GMC worldview. The audience responded to Osborne's sincere and heartfelt comments with a standing ovation.
Fayetteville Mayor Ed Johnson gave the keynote address. A Navy veteran, Johnson recalled some of the events of his childhood, education and military experience, emphasizing how the moral standards learned from his parents provided a framework for his future actions.
Johnson expressed praise for veterans and first responders, those who put their lives on the line each day. And he noted the need to stand against those that challenge our freedom.
Veterans Day activities followed in Tyrone on Nov. 10, with the 2017 Veterans Day Celebration (at left).
The keynote speaker was U.S. Army Lt. Col. John J. Burrescia, Jr., who also serves as a board member of Tyrone-based HeroBox, an organization founded by Councilman Ryan Housley that supports deployed, injured, aging and homeless veterans, along with other projects.
Burrescia spoke about the history of Armistice Day and Veterans Day, and about the reality that veterans are members of a tribe, one where elders pass on a legacy to those who fol
low.
Currently an instructor at Texas A and M University, Burrescia said, "I'm not just a cheerleader for the Army. I do my best to pick and train people committed to military service. We have to grow future service members to serve with their whole heart. We don't move forward if we don't lead with our whole heart."
Among his comments, Burrescia thanked Tyrone citizens and the town for their service to the community.
"Whatever your legacy may be, your legacy is through your service," Burrescia said.
The Sandy Creek High School JROTC presented the colors and the high school's choir sang the National Anthem.
A reception for veterans and their guests at the Tyrone event was hosted by Fayette Daybreak Rotary Club.
Chilly winds on Nov. 11 did not hamper the large Veterans Day event in downtown Fayetteville (below right), sponsored by the Fayetteville-based Eden Project. Guest speakers included Rep. Josh Bonner, Dr. Vanessa Johnson, Fayetteville Mayor Ed Johnson, Brig. Gen. (Ret.) "Rock" Donahue and a representative for Congressman Drew Ferguson.
Dr. Vanessa Johnson, also a veteran along with her spouse, Mayor Ed Johnson, saluted military spouses. She said military spouses are the unsung heroes who are often forgotten, both during and after deployment.
Also speaking at the event, Donahue noted the sense and significance of Veterans Day events.
"Our nation is in a season of reflection and remembrance," he said. "Veterans know pain is temporary, but pride and honor last."
The lengthy event in Fayetteville included live music featuring two bands, activities for the kids, the Veterans Alley service information area complete with 12 veteran service organizations and numerous vendors.
Meanwhile, Fayette schools featured numerous activities honoring veterans.
Below, right, Inman Elementary School hosted its annual Veterans Day celebration on Nov. 10. The celebration began with an hour-long program presented by the fifth grade and Eagle Ensemble students under the direction of Patricia Banks. Also participating in the program was the Griffin Composite Civil Air Patrol and Colonel Ray Willcocks of the American Legion. Photo/Submitted.


From parades to ceremonies, schools across the county held Veterans Day celebrations to honor the men and women in their communities who have served in the United States military.
Braelinn, Sara Harp Minter, and Peachtree City Elementary schools hosted a breakfast for veterans within the school community.
Many schools like Oak Grove, Peeples, and Robert J. Burch Elementary participated in annual Veterans Day parades where students and faculty lined the hallways singing military songs while veterans walked through.
Veterans Day assemblies were a way Bennett's Mill Middle, Fayetteville Elementary, and Huddleston Elementary honored veterans. Veterans from the community, faculty, and staff were recognized for their service.
In addition to the Veterans Day assembly, Rising Starr, Flat Rock, and Whitewater Middle schools hosted receptions for all veterans and their families.
Cleveland and Kedron Elementary created slideshow presentations dedicated to students' family members who are veterans, as well as veterans within the community.
Students, faculty, staff, and veterans filled the auditorium where Sandy Creek High's Air Force Junior ROTC (AFJROTC) hosted a special Veterans Day Ceremony.
A slideshow presentation was shown to honor all Sandy Creek faculty and staff who have served in the military.
Local veterans were also in attendance. Each veteran was recognized by his or her branch of the U.S. Armed Forces. A moment of silence took place to honor all fallen soldiers.