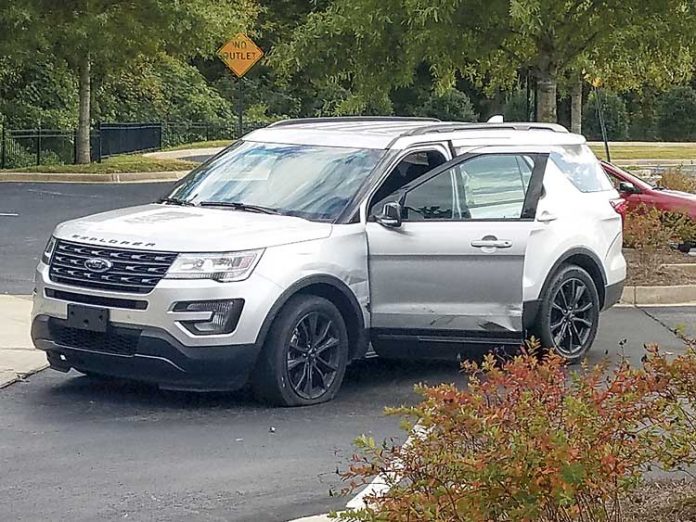 Three teenaged males suspected of car theft were taken into custody on Nov. 2 in Fayetteville after traveling from the Grantville area.
---
Above, this Ford Explorer was abandoned by three males at the Waterfall business park in Fayetteville after being pursued in connection with a possible vehicle theft in Grantville. Photo/Submitted.
---
Jakwon D. Oglesby, 17, of Atlanta, and Jaquezz D. Booker, 17, of Atlanta and a 15-year-old male were taken into custody in Fayetteville. Charges on the three are pending, according to Sheriff Barry Babb.
Babb said the three males in a Ford Explorer were suspected of being involved in a car theft in the Grantville area in southwest Coweta County earlier in the afternoon.
The Explorer exited Interstate 85 at Ga. Highway 74 and headed south, Babb said, adding that Peachtree City police were not notified of the situation until the vehicle was in the city and headed east on Ga. Highway 54.
Deputies located the vehicle west of Piedmont Fayette Hospital and deployed stop-sticks near the intersection of Hwy. 54 and Grady Avenue at approximately 3:15 p.m., Babb said.
The vehicle pulled into the parking lot at the adjacent Waterfall business park and pulled to a stop near the Fayette County Chamber of Commerce office, said Babb, who added the car was stolen in Alpharetta.
The males ran, with two being located and taken into custody by deputies at the business park immediately to the east on Hwy. 54 and the third apprehended by Fayetteville officers near the intersection of Grady Avenue and Beauregard Avenue.
The vehicle suspected of being stolen in Grantville was subsequently stopped on I-85, Babb said.