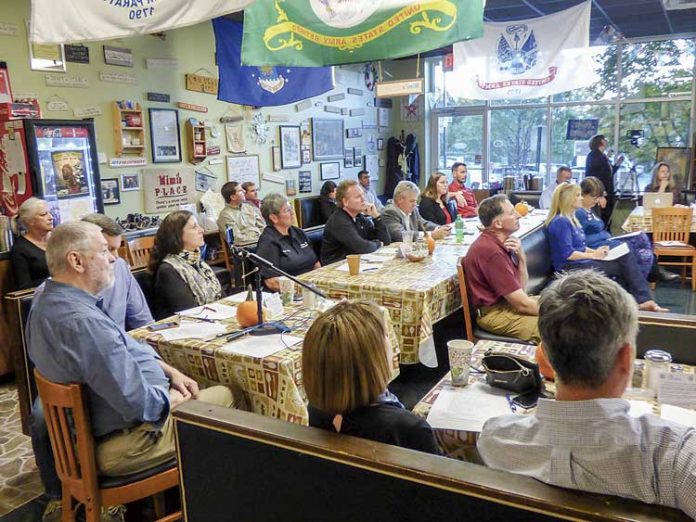 A one-of-a-kind forum was held in Peachtree City on Oct. 17 to address a variety of topics relating to golf cart safety. The Golf Rider "Golf Cart Safety Campaign Forum" was also broadcast live to The Citizen Facebook page.
---
Above, nearly 40 people attended the "Golf Cart Rider Safety Campaign Forum" held Oct. 17, also featured as a Facebook Live event by The Citizen. Photo/Ben Nelms.
---
One of the speakers was Peachtree City Police Lt. Brad Williams, who provide a wealth of statistics pertaining to golf carts.
Repeatedly emphasizing safety, Williams said from January 2016 to date, 24 percent of golf cart collisions were due to the driver losing control, while 20 percent were due to driving too fast for conditions, 16 percent due to a distracted driver and 14 percent due to a driver impaired by drugs or alcohol.
Williams said 22 of the 50-52 injuries resulting from golf cart collisions came with the driver being under 17 years of age.
Williams stressed that golf cart drivers maintain awareness, keep from being distracted by texting, cell phones or headphones and, especially, slow down.
Peachtree City Fire Chief Joe O'Conor reiterated that stance, adding that, in some years, fire rescue transported more people with significant injuries involving golf carts than in motor vehicle accidents.
O'Conor also stressed the importance of charging golf carts in well-ventilated areas, adding that some garage fires have been traced to overheated batteries.
The forum was designed to be an open discussion with citizens, officials and businesses about golf cart safety to create effective, privately-funded initiatives aimed at reducing golf cart accidents.
From a personal perspective, Heather Harding noted the importance of safety awareness on golf carts. She was in an accident and received acid burns from cart batteries and is on track to have her eighth surgery later this year.
"Enforce the laws and ordinances on golf carts. Education is key," Harding said. "No golf cart should be sold that can go more than 20 miles per hour."
EZ-GO Golf Cart Chief Engineer Jim Fisher followed Harding, saying that golf carts are designed to have a top speed of 18 miles per hour, noting that cart operating systems are not designed for high speeds. Fisher also said some of the modifications made to golf carts are a big issue.
A number of ideas, both from the on-site audience and from the Facebook audience, were presented during the event.
One of those suggested that signage might be improved, perhaps with the assistance of Boy Scouts. Other suggestions included installing mirrors in tunnels and cutting the vegetation near curbs to improve visibility.
Also during the discussion, Williams said the police department has applied for a grant to teach driver safety to young drivers.
Held at Mimi's Good Food restaurant, the Facebook Live event was sponsored by Peachtree City-based Golf Rider and attended by 40 people on site.
The event was led by Golf Rider representative Russell Warren, and included a variety of speakers and discussion topics.
To view the Facebook Live event visit https://www.facebook.com/pg/mycitizen/videos/?ref=page_internal, but note that audio is absent for the first 20 minutes due to technical difficulties.