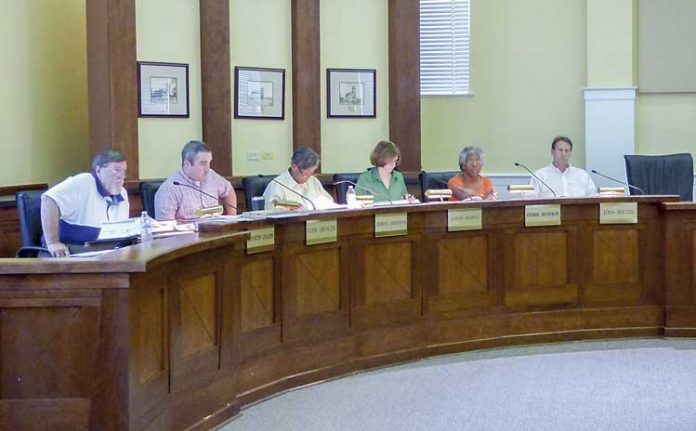 Developers want PUD zoning for 370 homes, 62 acres open space
A work session item at the Sept. 26 meeting of the Fayetteville Planning and Zoning Commission came with a proposal to annex 175 acres on the city's east side for use as a 370-home subdivision.
---
Above, members of the Fayetteville Planning and Zoning Commission at the Sept. 26 meeting include, from left, commissioners Ken Collins, Toby Spencer and Derryll Anderson, Chairman Sarah Murphy and commissioners Debbie Renfroe and John Reeves. Photo/Ben Nelms.
---
The request to be presented in October will ask that the property south of Banks Road and adjacent to Ga. Highway 54 East be zoned R-15 PUD (planned unit development.
Commissioners were told that home sizes would potentially range from 2,400-4,500 sq. ft., depending on market demand, and with lot sizes ranging from 60 feet by 140 feet to 100 feet by 140 feet.
The property would include 62 acres of open space.
The commission on Sept. 26 during a non-voting work session heard a number of commercial and residential proposals that will be potentially be up for a formal presentation and a vote in October.
Fayetteville has become a busy place for a variety of proposals, especially those involving commercial developments.
In one of those proposals, J and R Clothing representative Darrell Baker outlined a front buffer variance request for the new store and 22,000 sq. ft. retail center on Ga. Highway 54, just west of Grady Avenue. Baker noted that approximately one-third of the property is unusable.
J and R will be relocating from its long-time site on Ga. Highway 85 North. That is the site for the proposed Lidl grocery store.
Lidl representatives were also at the meeting and will return in October meeting to present development plans for its 35,962 sq. ft. grocery. Some on the commission questioned the company's use of significant glass walls on the proposal. Lidl representatives in past meetings explained the company's preference for glass to allow natural sunlight in their buildings.
That said, the Lidl representative at the Sept. 26 meeting said Lidl architects would work with the city on the issue.
Also providing brief comments at the meeting, and set to return for a potential vote in October, were Steven Gulas on the downtown hotel along Hwy. 85 just north of downtown, Laura Benz representing The Overlook office building on Veterans Parkway and David Buckel representing a proposal to construct a 9,400 sq. ft. retail building on Ga. Highway 314 at Commerce Drive.