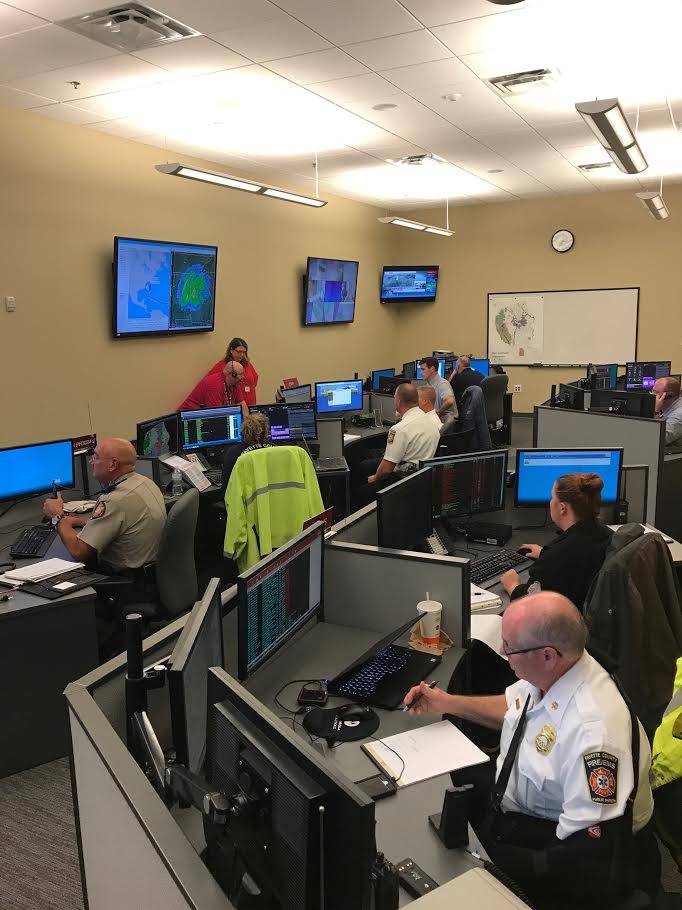 Representatives from agencies across Fayette County were stationed at the Fayette County Emergency Services Emergency Operations Center as Tropical Storm Irma rolled in to Fayette and Coweta counties on Sept. 11. Photo/ Fayette FES.
The tropic storm that had been Hurricane Irma was in evidence throughout Fayette and Coweta counties during the afternoon and evening hours on Sept. 11. Emergency operations centers in both counties, along with officials in the municipalities, responded to the damage and routed crews to affected areas. There were no reports of storm-related injuries.
Even into Tuesday afternoon there continued to be significant numbers of customers in Fayette and Coweta without power.
Irma's winds, peaking in the range of 50 miles per hour, began striking the counties on Monday shortly after 2 p.m.
Fayette EMA said there were 3,620 Georgia Power customers in Fayette and 10,000 Coweta-Fayette EMC customers without power at 4:15 p.m. on Sept. 11.
The Fayette Emergency Operations Center (EOC) fielded calls during the storm event, with more than 400 calls coming in between 1:30-4:30 p.m. when storm winds were at their peak.
"It worked like it should," Fayette Fire Chief David Scarbrough said of the efforts of the EOC on McDonough Road that included representatives from the 911 center, Fayetteville, Peachtree City, Fayette County Sheriff's Office, Fayette County Fire and Emergency Services and Fayette County Public Works.
In Coweta, EMA Director Jay Jones said 911 received 1,167 calls pertaining to damages and emergencies. Those calls included 250 reports of trees and power lines down and trees damaging homes and vehicles.
Jones said the maximum wind gust reported at the Newnan Airport registered 51 miles per hour at 2:55 p.m.
"The preparation and response was great," Jones said of the efforts of local and county agencies and departments and the 40 people on duty at the EOC.
In Peachtree City, fire department spokesman Ron Mundy said the department received 55 calls, mainly relating to trees and lines down, emergency medical issues and several alarms triggered by the storm. Despite damage from the wind, there were no injuries from the storm, Mundy said.
City officials on Tuesday said 15 homes were hit by falling trees.
City Clerk Betsy Tyler said during the storm on Monday, the Peachtree City Police, Fire, Public Works and grounds crews responded to 93 calls, 58 of which were about trees blocking roadways and paths.  Crews responded to 14 homes hit or threatened by falling/leaning trees and 16 calls for downed power lines or lines with trees leaning on them. In addition, public works has received another 38 "after the storm" calls for service on Tuesday, she said.
Fayetteville Fire Chief Alan Jones on Tuesday said the city received 27 emergency calls and 20 non-emergency calls during the storm event beginning Monday and continuing into Tuesday, mainly due to high winds causing power lines and trees to topple. The bulk of the calls came during the afternoon hours Monday.
Jones said public works crews removed 30 cubic yards of debris from city right-of-way areas.
Jones said there were several wrecks, caused largely from traffic signals not working.
Lines down on Ga. Highway 54 East near Jeff Davis Drive were cleared Tuesday afternoon and the road was re-opened, Jones said.
Jones said a report of a gas leak at a business on North Glynn Street led firefighters to discover a damaged roof on a business that had closed for the storm.
Even on Tuesday afternoon, significant areas of Fayetteville were without power, telephone land lines and internet. Even some cell phone coverage was limited in the area.
"We had double the normal resources," Jones said of fire crews at work. "Thankfully, for worst part of the storm came during the daylight hours when calls could be handled more easily."
Power outages impacted many homes and businesses, with crews providing two home oxygen units to residents in need, said Jones.
Georgia Power customers in the Fayetteville area and in east Fayette lost power as Irma's strongest winds hit Fayette during the mid-afternoon hours. Twenty-four hours later, on Tuesday afternoon, Georgia Power had 2,829 customers affected.
Georgia Power customers affected by outages included 667 in south Fayette and 38 in Peachtree City by mid-afternoon on Sept. 12
Georgia Power outages in Coweta were more numerous and widespread.
Outages as of mid-afternoon on Sept. 12 showed 314 affected customers in northeast Coweta, 263 affected in southeast Coweta, 381 in the west portions of the county and 1,041 in the southwest area.
Coweta-Fayette EMC on Sept. 12 said there was a peak outage to 30,000 customers in the two-county area, with numerous broken poles and power lines. Crews from Kentucky arrived Monday night to help restore power, EMC said.
By 8 a.m. on Sept. 12, there were 14,000 customers affected in Fayette and Coweta, according to EMC.
And by 2:30 p.m., there were 6,906 customers affected in Fayette and 7,616 affected in Coweta.
The main outage areas for EMC customers included Brooks, north Fayetteville, Tyrone, the Tommy Lee Cook Road area in northeast Coweta, Old Corinth Highway and Moreland.
EMC serves more than 39,000 customers in Coweta and more than 37,200 in Fayette.