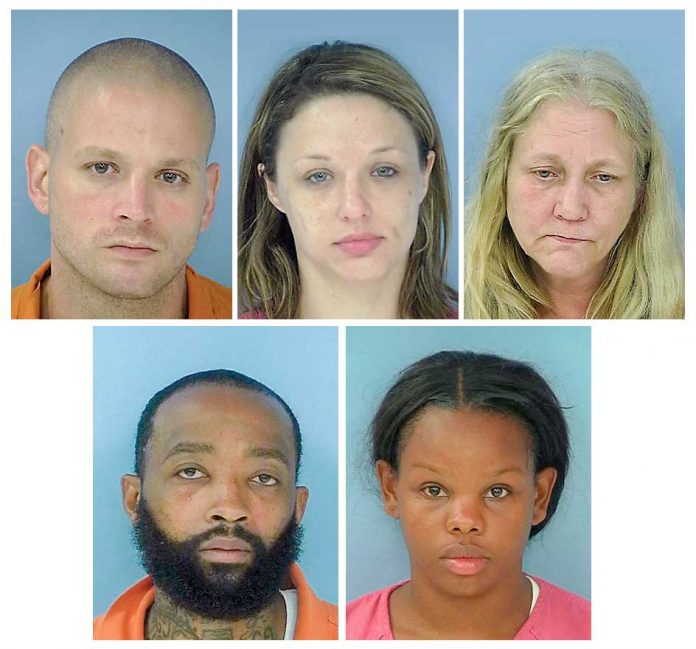 Ecstasy-laced brownies, muffins result in 2 arrests
Most people have heard of marijuana-laced brownies. But who has heard of brownies or muffins laced with the illegal drug known as Ecstasy? That is what Fayetteville police encountered during an Aug. 13 traffic stop.
Jason Knox, 36, of Decatur, and Malika Jackson, 22, of Atlanta, were both charged with possession of Ecstasy with intent to distribue and possession of marijuana with intent to distribute, according to Fayetteville Police Department spokesman Mike Whitlow.
---
Above, top row, from left, Dustin Allen Tarvin, Maria Catline Kennedy, and Lola Constance Stephens. Bottom row, from left, Jason Knox and Malika Jackson. Photos/Fayette County Jail.
---
Whitlow said an officer at the Fayette Pavilion called in a report on a Dodge Charger with rear window damage. A patrol officer a short distance away spotted the vehicle on Ga. Highway 314 and made a traffic stop.
An investigation at the scene revealed a metal box and a Tupperware box which contained brownies and muffins, Whitlow said. A search of the vehicle also revealed an amount of suspected marijuana and a number of baggies, Whitlow added.
Tests performed on the brownies and muffins were negative for marijuana but were positive for Ecstasy, Whitlow said.
3 charged in Fayetteville drug raid
An Aug. 17 drug bust at a residence on Gwinnett Street in Fayetteville netted suspected Ecstasy, methamphetamine and a large sum of cash.
Lola Constance Stephens, 56, of Gwinnett Street, Fayetteville, 32-year-old Maria Catline Kennedy, 32, of Dacula, and 34-year-old Dustin Allen Tarvin, of Dacula, were all charged with possession, sale and manufacture of drugs and drug trafficking, according Fayette County Sheriff Barry Babb.
Babb said the sheriff's Special Operations Section executed a search warrant at the Gwinnett Street residence and seized 2.332 grams of suspected ecstacy, 2.5 grams of suspected methamphetamine, 22.9 grams of suspected amphetamine and dextroamphetamine in pill form, digital scales, packaging materials and paraphernalia.
Babb said the search warrant was executed as a follow-up of a drug investigation.
What is Ecstasy?
According to Drugs.com, "Ecstasy (MDMA) is a synthetic, psychoactive drug chemically similar to the stimulant methamphetamine and the hallucinogen mescaline. Street names for MDMA include Ecstasy, Adam, XTC, hug drug, beans, and love drug.
"Ecstasy is an illegal drug that acts as both a stimulant and psychedelic, producing an energizing effect, as well as distortions in time and perception and enhanced enjoyment from tactile experiences.
"Research in animals indicates that Ecstasy is neurotoxic; whether or not this is also true in humans is currently an area of intense investigation. Ecstasy can also be dangerous to health and, on rare occasions, lethal."