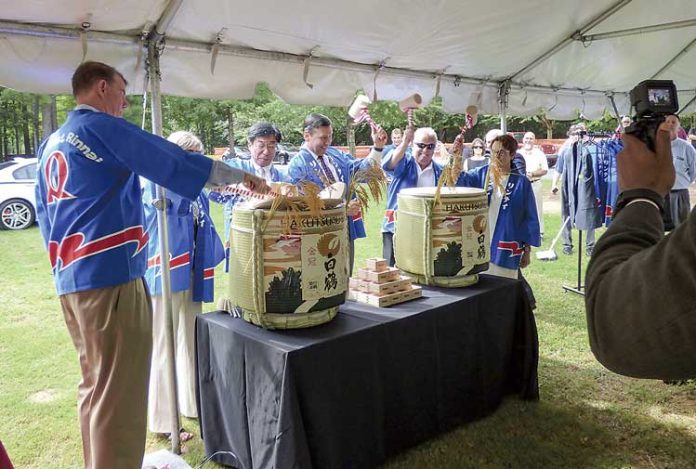 Japan-based Rinnai Corp. will triple the size of its North American headquarters on International Drive in Peachtree City. Groundbreaking ceremonies were held July 28 for the more than $15 million expansion, which will include a new two-story headquarters and establishment of its North American Innovation and Training Center.
Upon completion of the company's proposed 37,560-square-foot two-story headquarters and 25,110-square-foot Innovation Center, Rinnai's expansion project will see its 8.4 acre campus expand by nearly 63,000 square feet, and include new buildings, testing equipment and other amenities.
---
L-R are Rinnai America COO Frank Windsor, Peachtree City Councilwoman Kim Learnard, Rinnai Managing Executive Officer and General Manager Yuzo Yoshida, Smith, Gambrell and Russell attorney Perry McGuire, Peachtree City Councilman Phil Prebor and Fayette County Development Authority President Joan Young. The ceremony — complete with hammering open barrels of the potent Japanese rice wine known as saké — is meant to bring blessings of health, happiness and prosperity, Rinnai officials said. Photo/Ben Nelms.
---
Rinnai America Corp. Chief Operating Officer Frank Windsor at the ceremony said the expansion will bring more customers to Peachtree City.
"Rinnai is a Japanese company with a little bit of Southern hospitality," said Windsor. "May (Rinnai's presence) be a shining star in this community."
Also speaking at the groundbreaking was Rinnai Corporation Managing Executive Officer and General Manager Overseas Business Headquarters Yuzo Yoshida.
"We are proud to call this community our home," said Yoshida, adding that expanding company operations in Peachtree City demonstrates Rinnai's dedication to the community and its customers.
The ceremony was attended by a number of local business representatives and elected officials.
"We take great pride in supporting a company with deep roots in the community," said Peachtree City Mayor Vanessa Fleisch, noting the company's current employment of 150 people in Peachtree City and saluting Rinnai on the additional jobs to come with the expansion. "Congratulations to Rinnai on a significant milestone."
Also attending the ceremony was County Commission Chairman Eric Maxwell.
"We appreciate Rinnai coming to our community," Maxwell said of the company's entrance into Peachtree City 15 years ago. "Thank you for coming to our community and thank you for staying."
Fayette County Board of Education Chairman Barry Marchman also spoke, saying the school system is grateful for Rinnai's positive impact on the community. Marchman said, "Rinnai is creating a future here through its Innovation and Training Center."
The first phase of construction will focus on the new headquarters building, with an expected completion date of summer 2018. The Innovation and Training Center building is expected to be completed in late 2018.